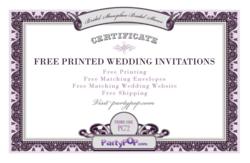 "Great Promotion! Brides need all the help they can get. I highly recommend this to any bridal show producer. Brides were asking for their Free Wedding Invitations at the door!"
-Wally Martin: Cinderella Bridal Show Producer
(PRWEB) April 28, 2012
The Florida Wedding Expo is the most comprehensive, entertaining & popular bridal show in the Tampa, Florida area. The expo will be held Sunday, April, 29th at the Hilton Carillon Park Hotel 950 Lake Carillon Drive Tampa - St. Pete, FL 33716 from 1:00 p.m. to 5:00 p.m. Your Wedding TV's Florida Wedding Expo is the perfect place for brides and grooms along with their wedding party, family and friends to come and meet with Tampa Bay's finest wedding professionals and find the best they have to offer.
This weekend brides will win thousands of dollars in wedding products, services, hotel stays and even a FABULOUS All-Inclusive Honeymoon to St. Lucia. In addition, the area's best Reception Sites provide special offers and upgrades to brides at this show. Couples will be able to see examples of photography, videos, Dj's, table designs, bouquets, centerpieces, favors and so much more.
The Tampa area's most popular wedding professionals will be offering special pricing, incentives and discounts only available by attending the show. Attendees will be able to taste appetizers, entrees, cakes and desserts, see amazing decor, floral, tablescapes, themes and the latest trends, and enjoy on-site beauty & spa treats, hair & make-up trials, photos, FlipBook favors and caricatures for all. For more information including tickets and other Florida locations visit http://www.floridaweddingexpo.com/show.html?show.id=2706.
Bridal Show producers in the United States, Canada and the U.K. have been announcing a milestone in attendance in the months since partnering with PartyPOP's Free Wedding Invitations Campaign. Brides will be able to receive up to 100 complimentary wedding invitations with matching envelops, designed, printed and shipped at no cost.
The 2012 campaign was built with the PartyPOP marketing budget. PartyPOP says. "We just think it's more effective for the brand awareness of Bridal Shows to offer free products to people when they actually need them." The campaign provides significant savings to couples (who also receive a free custom website). PartyPOP was correct in their projections as there has been notable increase in both attendance for show producers, and invitation orders now that wedding planning season is in full swing.
About PartyPOP: the largest party, wedding and event planning online network:
Before the Internet era, the professionals at PartyPOP were successful hands-on party planners and special event producers. For more than a decade PartyPOP has translated 30 years of party planning experience onto the Internet. Millions of vendors are listed on the network consisting of 60+ websites and tens of millions of customers have used the network to plan their parties, weddings and events. PartyPOP also provides party and event related tips, themes and ideas, as well as a free full wedding planning software called Seating Arrangement.