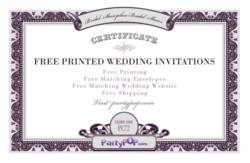 "Great Promotion! Brides need all the help they can get. I highly recommend this to any bridal show producer. Brides were asking for their Free Wedding Invitations at the door!"
-Wally Martin: Cinderella Bridal Show Producer
(PRWEB) April 27, 2012
The Tulsa Wedding Show announces their newest wedding show for Tulsa area brides. This smaller, intimate show will be at the Glenpool Conference Center on Sunday, April 29, 2012 from 12 p.m. to 4 p.m. The Show will showcase wedding exhibitors in the new Glenpool Conference Center. Exhibits will showcase the latest trends in wedding planning, vintage wedding specialists, QR codes for busy brides to scan for later shopping, and choice styles to compliment any budget. Bides will also be able to immediately view the latest bridal fashions with elegant displays in the foyer.
The Tulsa Wedding Show in Glenpool will showcase wedding professionals in the most requested categories including reception facilities, photographers, caterers, photo booths, videographers, florists, and venues. From formal to informal, large or small, couples will enjoy many options all available in one place. Most merchants offer exclusive "show-only" specials and prizes will be announced by text message every hour beginning at 1:00. Exhibitors will be present all day so couples are encouraged to bring their long list of questions.
The Glenpool Conference Center is located at 12205 S. Yukon, off Highway 75. For more information about the show or to purchase tickets, visit http://www.thetulsaweddingshow.com.
Bridal Show producers in the United States, Canada and the U.K. have been announcing a milestone in attendance in the months since partnering with PartyPOP's Free Wedding Invitations Campaign. Brides will be able to receive up to 100 complimentary wedding invitations with matching envelops, designed, printed and shipped at no cost.
The 2012 campaign was built with the PartyPOP marketing budget. PartyPOP says. "We just think it's more effective for the brand awareness of Bridal Shows to offer free products to people when they actually need them". The campaign provides significant savings to couples (who also receive a free custom website). PartyPOP was correct in their projections as there has been notable increase in both attendance for show producers, and invitation orders now that wedding planning season is in full swing.
About PartyPOP: the largest party, wedding and event planning online network:
Before the Internet era, the professionals at PartyPOP were successful hands-on party planners and special event producers. For more than a decade PartyPOP has translated 30 years of party planning experience onto the Internet. Millions of vendors are listed on the network consisting of 60+ websites and tens of millions of customers have used the network to plan their parties, weddings and events. PartyPOP also provides party and event related tips, themes and ideas, as well as a free full wedding planning software called Seating Arrangement.