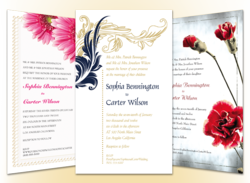 PartyPOP features professionals in the party, wedding and event industry.
(PRWEB) March 20, 2012
PartyPOP.com recently made headlines by giving out free wedding invitations to any bride and groom in the United States, Canada, and the United Kingdom. PartyPOP.com already features more than two million special event professionals and is expanding every day with vendors listing their businesses on the network. Many of the party planning and special events professionals who have partnered with PartyPOP.com are now able to offer potential clients the same free wedding invitations.
PartyPOP.com features highly reputable and professional companies with a proven track record of success and customer satisfaction. Some of these companies include: Professional Belly Dance Entertainment ~ Sira, A Touch of Camo, LLC and Digital Images.
Professional Belly Dance Entertainment ~ Sira
Known for her ability to command attention with a fiery soulful spirit and sheer joy, professional Belly Dancer ~ Sira performs with much grace and captivating fluidity. Sira performs regularly throughout New York City in various settings including restaurants, parties, clubs, and theaters. She has also worked with high profile celebrities such as Wyclef Jean, John Legend, and Robin Williams to name a few.
Sira's love of Middle Eastern music and dance is rooted in her Armenian heritage. Sira studied Middle Eastern music History and Theory at Stonybrook University which lends itself to her natural musicianship in dance. Her authentic technique has gained recognition by Arabic audiences while maintaining versatility to entertain any culture and age group. Her professionalism and skill has led her to be one of New York's most sought after performers in her field. Further details along with contact information can be found online at http://www.partypop.com/v/4000050.
A Touch of Camo, LLC is based in Lakeside, Arizona and owned by JoAnne and Gregg Schnepp. Both JoAnne and Gregg already had 30 years of experience in the wedding industry as photographers; so, when a bride named Heather asked for a custom camouflage pattern to be sewn into the skirt of her wedding dress (to accommodate her outdoor themed wedding) in 2007, A Touch of Camo, LLC was born. The dress was named "Heather" and has since become one of the most popular designs.
In 2009, a Touch of Camo, LLC added camo lingerie, swimwear for guys and girls, and a variety of accessory items suitable to bridal party gifts and many other occasions. In 2011, the company was licensed to sell the Mossy Oak patterns wholesale to shops making it easy for brides to try on dresses in local shops for more personalized service. The company can be contacted online at http://www.partypop.com/v/4117962.
Digital Images began laser engraving on location at social and corporate events in South Florida in 2005. At the time, the company engraved with a laser resolution at 150 dpi in 1 minute and took three people to finish the process. Today, the company engraves with a resolution at 651 dpi in less than 10 seconds using one person allowing them to do more than ever.
In 2010, the success of the company called for expansion into three separate divisions: Social, Corporate and Aerial Blimp. The company's growth also brought several high profile clients, such as the Miami Dolphins, Bank of America, CBS TV, Warner Brothers, and Nike.
Digital Images has recently developed a MMS Publishing engine integrating MMS text messaging with green screen technology. The development allows guests to request that their favorite photos to be delivered to their cell phone by texting the photo number, something event guests have proven to love and enjoy. The company can be found online at http://www.partypop.com/v/4094871.
About PartyPOP.com- the largest party, wedding and event planning online network:
Before the Internet era, the professionals at PartyPOP.com were successful hands-on party planners and special event producers. For more than a decade PartyPOP has translated 30 years of party planning experience onto the Internet. Millions of vendors are listed on the network consisting of 60+ websites and tens of millions of customers have used the network to plan their parties, weddings and events. PartyPOP.com also provides party and event related tips, themes and ideas, as well as a free full wedding planning software called Seating Arrangement.
About Free Printed Invitations by PartyPOP.com:
PartyPOP provides every bride and groom across the USA, Canada and the U.K. with free beautifully designed wedding invitations, printed on 80lbs card stock paper with matching envelopes and wedding website. Even door to door shipping is included at no cost. There are no hidden fees, no obligations to buy and no strings attached!