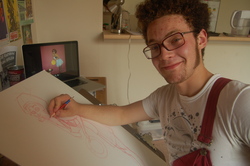 This is a great opportunity
Pasadena, CA (Vocus) April 29, 2010
Born to a mentally ill mother, he was given no name at birth and remained nameless for 19 years. At the age of three, Maximus Pauson, known to others as just "Max," remembers being named after his mother, Maxine.
Growing up in an unstable home environment, Max remembers a house without electricity and its slow dilapidation. With his mother in poor mental health, Max spent a brief time in foster care before being reunited with his mother and living in the San Francisco shelter system for four years. At 15, he ran away and found himself living with different friends' families, relocating from one home to another.
Fortunately for Max, he maintained one stable relationship, his therapist who began seeing him at seven. Also guiding him academically, she encouraged him to explore his artistic skills. Max enrolled in San Francisco's School of the Arts, a premier high school conducive to creative and independent thinking and artistic and academic excellence for promising students of the arts.
While attending School of the Arts, he found the courage to apply to Art Center College of Design in Pasadena, California. With a focused portfolio in hand, Max applied, was accepted, and given a full scholarship to attend in the fall of 2008.
After researching transitional living programs for former foster youth, Max learned about Hillsides Youth Moving On, a Pasadena program aimed at helping youth, like him, live independently. A self-motivator, Max applied and was accepted into the program, which meant he now had his own apartment to share with another former foster youth.
"This is a great opportunity," Max said. "I would not have been able to go to the Art Center if it had not been for this program. Rent is inexpensive, the budgeting lessons have been a dream, and staff has been hard-nosed when they needed to be for a lot of kids my age who don't have parents."
During the first month of admission into the former foster youth transitional living program, Max applied for a job, but lost an opportunity to gain employment when he could not be fingerprinted due to being nameless. Without an identification card or driver's license, he was unable to get a job or apply for certain government benefits. Max knew he needed to have an official name on his birth certificate; he needed to be named, once and for all.
As a United Way Partner Agency, Hillsides, http://www.hillsides.org, participates in United Way Kick Offs and local rallies at participating United Way employer firms. Jackie Broxton, Hillsides director of major gifts and planned giving, presented at one of these events. After hearing Jackie's presentation, an attorney from HOWREY LLP contacted Jackie and wanted to offer pro bono legal services.
With the help from HOWREY LLP, Hillsides, a foster care children's charity that oversees Youth Moving On, was able to collaborate with the law firm. Howrey attorneys were moved by Max's plight and accepted the case on a pro bono basis. Howrey attorneys promptly filed court documents, posted the matter in the Daily Commerce, and represented Max at his court hearing on at the Pasadena Courthouse. The judge approved the name change, legally becoming "Maximus Julius Pauson."
"Hillsides helped me with getting my birth certificate changed through working with the pro bono attorney," said Max. "I am amazed at how much she did. It would have taken me hours to complete and being in school, I just didn't have time to go through this process alone."
Having the one thing every child deserves upon birth, a name to identify oneself with, Max said that for years "I haven't been able to get an I.D. which is an important thing; it's a necessary thing to have a name."
Today Max is working diligently at his craft. Max is gearing up for an art exhibit where his drawings will be auctioned. Held at All Saints Church in Pasadena, the Foster Care Project Art Show and Silent Auction will feature some of his work on Sunday, May 2, 10 a.m. to 3:30 p.m. Hosted during Foster Care Awareness Month, the auction features paintings and drawings from other children in the foster care system, as well as young adults transitioning out of the system. All proceeds from the auction will go directly to the artists, one whose name will stand out: Maximus Julius Pauson.
###