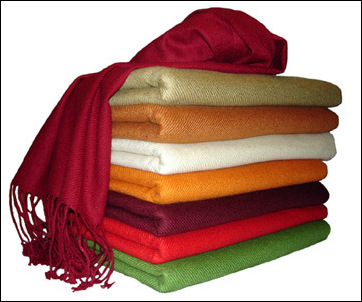 With the way the business is growing
Humble, TX (PRWEB) December 12, 2006 -
A new generation will take the helm at The Pashmina Store beginning in 2007. Founder Charlene Martina will pass the reigns over to her son, Blair Rhodes, who will serve as the chief executive officer, and daughter-in-law, Nattakitta Rhodes, who will be the company's president.
"They've done an excellent job growing the business," Martina said. "This year there was a 100 percent increase over last year (2005) in terms of dollar revenues. That's impressive."
And it doesn't stop there. Blair Rhodes said The Pashmina Store is on track to boost business in 2007 by at least 50 percent.
These large growth spurts have catapulted The Pashmina Store into the spotlight, consistently making it a leader in online-based pashmina and cashmere sales.
Although The Pashmina Store is based in Humble, Texas, its products are made in Nepal. Pashminas from Nepal are known as the finest in the world because of the techniques the artisans use in crafting each piece. The manufacturer there goes a step further for this company by making special colors and a unique weave exclusively for The Pashmina Store.
The bustling online retailer offers scarves, wraps and shawls in a pashmina wool & silk blend, two-ply and three-ply 100% cashmere, in addition to cashmere baby blankets and four-ply regular-size blankets. For a complete list of products, go to http://www.ThePashminaStore.com.
Blair Rhodes said that although The Pashmina Store offers more than 40 in-stock color options and special order services, the most popular color is black. To date, black accounts for 25 percent of sales. Dark chocolate and natural both came in at a close second place throughout 2006.
But, he added, when a customer orders a black pashmina, it is rarely the sole item that is purchased. Average online orders are for two or more pashminas and repeat business revenues stand at more than 25 percent. To date, The Pashmina Store has sold almost 100,000 pashmina and cashmere products.
"With the way the business is growing," Blair Rhodes said, "we will hit the 100,000 mark in no time at all."
The Pashmina Store offers a variety of authentic cashmere products including scarves wraps and shawls at reasonable prices. These products come in a variety of colors and are made in Nepal from the finest pashmina in the world.
Contact:
Brenna O'Boyle
The Winning Pitch Public Relations
(408) 661-8730
###