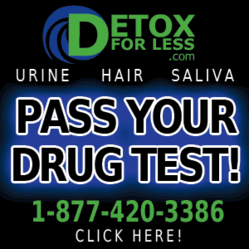 Detox for less is your source for drug test passing products!
(PRWEB) February 23, 2012
As part of its continuing efforts to provide the best detox products and customer service in the industry, Detox For Less has just launched a new website design that enables customers to quickly find and identify the best detox products for their needs.
Detox For Less is dedicated to helping people pass drug tests with quality synthetic urine and reliable detoxification products. As drug tests have evolved, Detox For Less has introduced new products to keep up with the ever changing drug testing industry. They continue to offer a 200% guarantee that you will pass your drug test, on most of the products that they sell.
"First and foremost, Detox For Less is a customer-driven company. We realize that it's essential for customers facing a possible drug test to find the information they need. The new site should be easy for customers to locate answers to their drug testing questions and make a detox product purchase." said CSR Holly Smith.
Check out their extensive range of detox products including, synthetic urine, quick fix, quick fix plus, whizzinator, urinator, detox pills, detox drinks, and urine additives for all your toxin free needs. They also sell a line of popular party enhancers too.
Detox For Less website is live at: http://www.detoxforless.com
About Detox For Less
Detox For Less has been striving to provide our customers with the best possible products, customer service and information for over 7 years. In the detoxification industry, there are many "fly by night" companies out there that promise the world, but never deliver. Detox For Less is a legitimate brick-and-mortar company with proven solutions.
All of the products they carry have been tested by their staff, independent labs, and thousands of satisfied customers.
For more information visit: http://www.detoxforless.com
###