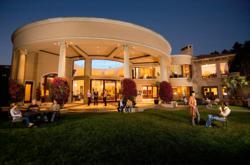 Exercise and a complete physical fitness and nutrition program are and always have been crucial components of the Passages Addiction Treatment Method. - Pax Prentiss
Malibu, CA (PRWEB) April 24, 2013
According to a recent article in Time magazine, research now shows that aerobic exercise significantly lessens the damage done to parts of the brain's white matter, which is the material frequently associated with deterioration due to continual or excessive alcohol consumption. "These findings in combination with the numerous beneficial aspects of aerobic exercise show just how crucial physical fitness is for individuals with history of heavy alcohol use," said Pax Prentiss, CEO and co-founder of the Passages Addiction Treatment Centers in Malibu and Ventura, California.
Substantial, prolonged alcohol consumption leads to neural damage that is similar to the natural decline that occurs through the aging process. Numerous studies concluded that regular exercise can preserve cognitive function in the elderly, which led to the theory that aerobics could also potentially have the same effects on white matter in people with a history of heavy alcohol consumption.
The study surveyed 60 people ranging in age from 21 to 55 with various alcohol consumption habits and various levels of exercise, conclusively showing that the relationship between alcohol consumption and white matter damage strongly depended on how much regular physical activity the participants regularly engaged in. Participants who drank heavily but engaged in little exercise showed high levels of white matter damage, whereas heavy drinkers who also exercised frequently showed lesser levels of damaged white matter.
White matter is a complex web of nerves that communicate with and relay information between various areas of the brain. In addition to alcohol damage reversal, scientists have also long reported that regular aerobic exercise improves memory, learning, impulse control, and increases self esteem.
"Exercise and a complete physical fitness and nutrition program are and always have been crucial components of the Passages Addiction Treatment method," said Prentiss. "We know that in order to fully heal, you must heal from the inside out – mind, body, and spirit. Physical fitness is just one of the many ways to reverse damage done by alcohol abuse and get on the road towards lifelong health and recovery."
At Passages Malibu - Addiction Ends Here™
About Passages Malibu & Passages Ventura:
Father and son team Chris and Pax Prentiss founded Passages Malibu in 2001. Its second location, Passages Ventura, first opened its doors in 2009. The two alcohol and drug abuse treatment centers offer an alternative to the 12 step/AA model of addiction treatment by utilizing a holistic program that focuses on the underlying issues of substance dependency, rather than attributing addiction to an incurable disease.
Both Passages Malibu and Passages Ventura accept insurance and each have earned the coveted Joint Commission (JCAHO) accreditation, which has only been given to 6% of the nation's behavioral health treatment programs.
Passages Malibu was named the #1 treatment center in the world by Healthcare Global and one of the "Most Luxurious Places to Dry Out" by Forbes magazine. The co-founders are also authors of an acclaimed series of addiction treatment books, including their groundbreaking, flagship title, The Alcoholism & Addiction Cure. For general inquiries about treatment, contact: 866-233-1753.
For media inquiries, contact:
press(at)passagesmalibu(dot)com