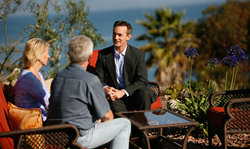 "Our clinical staff does a great job at treating and healing the underlying causes of alcohol dependence, allowing our clients to return to their daily lives without the need for drugs or alcohol." - Pax Prentiss, CEO Passages Malibu
Malibu, CA (PRWEB) April 08, 2014
In the Winter 2014 issue of Neurology, newly published research shows that increased levels of alcohol in middle-aged individuals can result in an accelerated rate of decline in their memory.
Higher rates of consumption of hard alcohol — vodka, gin, scotch, whiskey—were linked to the most pronounced rates of cognitive decline, especially among men.
Older women who drank heavily also showed a quicker decline than those who drank lightly. Their ability to plan, organize, and focus suffered most of all, according to the study's findings.
This study was the first of its kind to measure alcohol intake among older individuals who are not yet elderly. Researchers suspected that the habits established in middle age might carry over into advancing years. Heavy drinking among the elderly is reportedly rare.
"Addiction is can be effectively treated using one-on-one therapy like we do at Passages," said Pax Prentiss, CEO of Passages Addiction Treatment Centers. "Our clinical staff does a great job at treating and healing the underlying causes of alcohol dependence, allowing our clients to return to their daily lives without the need for drugs or alcohol."
The 20-year longitudinal study drew feedback from 7,000 civil servants, whose annual salary varied significantly. All participants surveyed lived and worked in the UK.
At Passages Malibu - Addiction Ends Here™
About Passages Malibu & Passages Ventura:
Father and son team Chris and Pax Prentiss founded Passages Malibu in 2001. Its second location, Passages Ventura, first opened its doors in 2009. The two drug & alcohol abuse treatment centers offer an alternative to the 12 step/AA model of addiction treatment by utilizing a holistic program that focuses on the underlying issues of substance dependency, rather than attributing addiction to an incurable disease.
Both Passages Malibu and Passages Ventura accept insurance and each have earned the coveted Joint Commission (JCAHO) accreditation, which has only been given to 6% of the nation's behavioral health treatment programs.
Passages Malibu was named the #1 treatment center in the world by Healthcare Global, one of the "Most Luxurious Places to Dry Out" by Forbes magazine, and the Huffington Post recently acknowledged Passages as a center that "caters to a high-end crowd, with many CEOs, entrepreneurs and high-powered professionals among its clients."
The co-founders are also authors of an acclaimed series of addiction treatment books, including their groundbreaking, flagship title, The Alcoholism & Addiction Cure.
For general inquiries about treatment, contact: 866-233-1753.
For media inquiries, contact: press(at)passagesmalibu(dot)com.