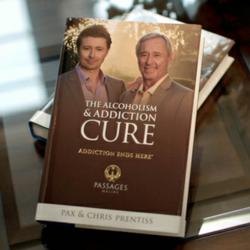 Malibu, California (PRWEB) July 03, 2012
Pax Prentiss, CEO and co-founder of Passages Addiction Treatment Centers, announced today that the company will offer a limited number of copies of their groundbreaking and innovative addiction treatment book, The Alcoholism & Addiction Cure, complimentary to anyone who asks for it.
The Alcoholism & Addiction Cure, which was written by Pax Prentiss and his father, Chris Prentiss, co-founder of Passages and a noted motivational author, have sold and/or donated more than 300,000 copies worldwide of their pioneering book since its release. The book is currently used as the textbook of the Passages substance abuse treatment centers in Malibu and Ventura, California.
The Alcoholism & Addiction Cure details Pax's harrowing 10-year addiction to heroin, cocaine, and alcohol and his father, Chris', attempts to get him sober. The book also serves as a step-by-step guide to getting sober the Passages way, which is a holistic, non-12 Step addiction treatment method that focuses on discovering, treating, and curing the underlying issues that cause one to abuse drugs or alcohol in the first place. Passages addiction treatment philosophy does not believe that addiction is a disease.
Though the book was given away for free for years, Passages had to halt the generous offer due to an overwhelming demand. But, starting on July 4th 2012, the complimentary offer is back and anyone who would like a copy can order it for free online at PassagesMalibuBook.com ($5.95 S&H apply). Books will be given away for a limited time.
"We realize that not everyone is ready to enter a drug or alcohol treatment program for 30, 60, or 90 days – or more, but some of these people are still in need of help with their substance abuse. We are inundated with inquiries every day about our treatment and felt compelled to bring back this complimentary offer to help even more people than we have over the past 10 years," says Pax Prentiss, CEO and co-founder of Passages Malibu and Passages Ventura drug addiction treatment centers in California.
The Alcoholism & Addiction Cure has been praised by people and critics for years. Here are a few reviews from the media, as well as reader testimonials:
"A critically important and thoroughly 'reader friendly' instructional guide to recovery… The Alcoholism & Addiction Cure is a core addition to personal, professional, substance abuse treatment center, and community library health and medicine reference collections and reading lists." – Midwest Book Review
"An excellent guide and resource book for anyone dealing with addiction, either for themselves or their families/friends… The program offers fresh hope to many for whom conventional treatments have not worked." – Yoga & Health
Reader Testimonials:
"If you are struggling with alcoholism and any other addiction this is a good book to help you on the road to recovery. It helps you feel better about yourself and to help you stop blaming yourself." – sabenner via Amazon.
About Passages Malibu & Passages Ventura:
Founded by Chris Prentiss and Pax Prentiss, Passages Malibu opened in 2001 with its second location, Passages Ventura, opening in 2009. The two drug and alcohol abuse treatment centers offer an alternative to the 12 Step/AA model of addiction treatment by taking a holistic approach with a program that focuses on the underlying issues of substance dependency, rather than suggesting that addiction is an incurable disease. Passages Malibu and Passages Ventura have earned the coveted JCAHO (Joint Commission on the Accreditation of Healthcare Organizations) accreditation, which has only been given to 6% of the nation's behavioral health treatment programs. The co-founders are also authors of the acclaimed series of treatment books that include their groundbreaking flagship book, "The Alcoholism & Addiction Cure." At Passages, we believe: Addiction Ends Here™. For general inquiries about treatment, contact: 866-233-1753
For media inquiries, contact:
press(at)passagesmalibu(dot)com
Passages Addiction Treatment Centers