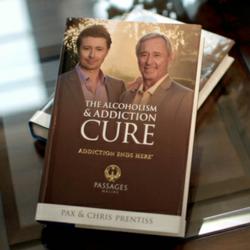 "We are pleased that the book has allowed us to share our message with the world, and that so many people have had the opportunity to obtain it free of charge," - Pax Prentiss.
Malibu, California (PRWEB) August 07, 2012
The Passages Substance Abuse & Addiction Treatment Centers announced on Monday August 6, 2012 that they will conclude issuing free copies of their innovative and best-selling title, The Alcoholism & Addiction Cure: A Holistic Approach to Total Recovery, due to limited availability and overwhelming demand. The generous promotion, which began on July 4th 2012, allowed Passages to engage with and introduce their world-renowned addiction treatment philosophy to a large community of new followers.
Pax Prentiss, CEO and co-founder of the Passages Addiction Treatment Centers, has spearheaded several book donation campaigns over the years. "We are pleased that the book has allowed us to share our message with the world, and that so many people have had the opportunity to obtain it free of charge," says Prentiss. "In the future, we will undoubtedly promote other complimentary giveaways so more people can gain access to our groundbreaking philosophy and addiction treatment methods in the comfort of their own homes."
The Alcoholism & Addiction Cure serves as a step-by-step guide to sobriety and the holistic, non 12-step therapeutic methods that have helped Passages treat thousands of people since it opened its doors in 2001. The book also features a poignant narrative written by Pax, describing in detail his harrowing 10-year addiction to heroin, cocaine, and alcohol and his father Chris' attempts to get him sober.
"Some people cannot leave work or their families for 30, 60, or 90 days of treatment - these people need help, but logistics and life circumstances often prevent them from getting it. The Alcoholism & Addiction Cure is our way to reach out to the people who cannot be with us at our addiction treatment center," says Prentiss. "The book provides an at-home, do-it-yourself guide to end relapse, uncover your underlying issues, and end the cycle of addiction for good."
The Alcoholism & Addiction Cure, written by Chris Prentiss (co-founder of Passages and a prominent motivational author), was published in 2005 and has sold countless copies worldwide since its release. The book has been praised by readers and critics as a pioneering piece of addiction literature and is currently used as a learning tool in treatment at the Passages centers in Malibu and Ventura, California.
The book is now available online at http://www.PassagesMalibuBook.com for $14.95 plus a $5.95 shipping and handling fee. It is also available on amazon.com in paperback, hardcover, and kindle editions, as well as in audiobook format on audible.com and itunes.
What the Critics Have to Say:
"This is an excellent resource for anyone dealing with addictions or trying to understand their life." - Bernie Siegel, M.D., author of 365 Prescriptions for the Soul and 101 Exercises for the Soul
"A critically important and thoroughly 'reader friendly' instructional guide to recovery… The Alcoholism & Addiction Cure is a core addition to personal, professional, substance abuse treatment center, and community library health and medicine reference collections and reading lists." - Midwest Book Review
"An excellent guide and resource book for anyone dealing with addiction, either for themselves or their families/friends… The program offers fresh hope to many for whom conventional treatments have not worked." - Yoga & Health
Reader Reviews:
"This is a fantastic book for addicts as well as people whose lives are affected by living around/with an addict. I believe this is the answer. If someone really wants to quit, this is the way to do it." - P. Perris via Amazon
"If you are struggling with alcoholism and any other addiction this is a good book to help you on the road to recovery. It helps you feel better about yourself and to help you stop blaming yourself." - Sabenner via Amazon.
At Passages Malibu: "Addiction Ends Here™"
About Passages Malibu & Passages Ventura:
Founded by Chris Prentiss and Pax Prentiss, Passages Malibu opened in 2001 with its second location, Passages Ventura, opening in 2009. The two drug and alcohol abuse treatment centers offer an alternative to the 12-step/AA model of addiction treatment by using a holistic approach and a program that focuses on the underlying issues of substance dependency, rather than suggesting that addiction is an incurable disease. Both Passages Malibu and Passages Ventura accept insurance and have earned the coveted JCAHO (Joint Commission on Accreditation of Healthcare Organizations) accreditation, which has only been given to 6% of the nation's behavioral health treatment programs. The co-founders are also authors of the acclaimed series of treatment books that include their groundbreaking flagship book, The Alcoholism & Addiction Cure. For general inquiries about treatment, contact: 866-233-1753
For more information on Passages Addiction Rehab Centers visit:
Passages YouTube Channel
Passages Facebook Fan Page
Passages Pinterest Boards
Passages Google Plus Page
Follow Passages on Twitter
For media inquiries, contact:
press (at) passagesmalibu (dot) com