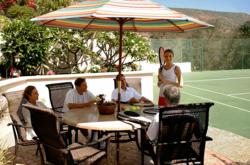 "I can certainly empathize with Herren's effort to draw a positive perspective from his history with addiction." - Pax Prentiss
Malibu, CA (PRWEB) April 22, 2013
Former NBA basketball point guard Chris Herren recently spoke out about his history with heroin use and the impact it had on his professional athletic career. Herren's efforts to share his inspiring story of redemption with others now include regular appearances as a public speaker. In 2012, Herren spoke to 150,000 high school students across the country.
"I think we all struggle with something at one level or another; and I think the earlier you share it, the better off you are," said Herren during a speaking engagement at the University of West Florida in March.
Herren reports being sober since 2008 and now spends his post-professional basketball career talking frankly about his history with addiction with at-risk youth.
The problems during Herren's 14-year drug history began to snowball when he discovered heroin at age 24. His dream of playing for his hometown Boston Celtics was jeopardized not only from a knee injury, but from the ongoing specter of addiction that seemed to follow him wherever he went.
"Passages remains a natural choice for professional athletes seeking alternative addiction treatment because if its proximity to the Kerlan-Jobe Orthopaeidic Clinic in West LA," said Passages Treatment Centers CEO Pax Prentiss, "For athletes, the idea of recovery and rehabilitation are physical experiences, but our clients also benefit tremendously from the spiritual and holistic treatment we offer."
Initially drafted by the Denver Nuggets in 1999, Herren went on to play for the Boston Celtics, before traveling internationally to play in China, Italy, Poland, and Turkey. Herren's career was endangered long before becoming a professional, leading him to be dismissed from Boston College as a Freshman for failing numerous drug tests. Herren's drug experiences included runs with prescription medication, cocaine, crystal meth, and heroin, leading to seven drug-related felony arrests and a near-fatal overdose that left him clinically dead for 30 minutes.
"I can certainly empathize with Herren's effort to draw a positive perspective from his history with addiction." Added Prentiss, "My own experience with drug addiction is what helped me cofound Passages addiction treatment center and offer a fresh start to those who are in need of an alternative approach to healing the underlying issues that drive addictive behavior."
The darkest moments of Chris Herren's downward spiral came during typically joyful moments of a person's life, including the birth of his third child, the occasion of which Herren used to go on alcohol and a drug-fueled bender that later involved the police. The horizon appears to have cleared for Herren who now devotes his energy to more productive, service-oriented efforts, including his recently launched nonprofit The Herren Project.
At Passages Malibu - Addiction Ends Here™
About Passages Malibu & Passages Ventura:
Father and son team Chris and Pax Prentiss founded Passages Malibu in 2001. Its second location, Passages Ventura, first opened its doors in 2009. The two alcohol and drug abuse treatment centers offer an alternative to the 12 step/AA model of addiction treatment by utilizing a holistic program that focuses on the underlying issues of substance dependency, rather than attributing addiction to an incurable disease.
Both Passages Malibu and Passages Ventura accept insurance and each have earned the coveted Joint Commission (JCAHO) accreditation, which has only been given to 6% of the nation's behavioral health treatment programs.
Passages Malibu was named the #1 treatment center in the world by Healthcare Global and one of the "Most Luxurious Places to Dry Out" by Forbes magazine. The co-founders are also authors of an acclaimed series of addiction treatment books, including their groundbreaking, flagship title, The Alcoholism & Addiction Cure.
For general inquiries about treatment, contact: 866-233-1753.
For media inquiries, contact:
press(at)passagesmalibu(dot)com