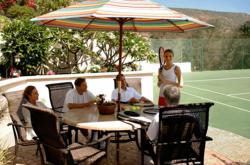 The Passages clientele often trace their own stories of addiction and substance dependence back to college experiences, and it remains a priority to start forming positive, constructive habits at a young age. - Pax Prentiss
Malibu, CA (PRWEB) June 18, 2013
High schools and colleges across the US release millions of students into the freedom of summer break each year. Statistics show that with newfound freedom comes added responsibility for parents, teens, and undergraduates to drive safely, outside of the influence of drugs and alcohol.
A survey of young drivers, conducted in April by USA Today, revealed that nearly 25% of all young drivers admit to driving while impaired by drugs or alcohol. According to the survey, summer driving accounted for the second highest incidence of driving while intoxicated by younger Americans, trailing close behind New Year's Eve. Personal safety is a top priority, but the safety of other driver on the road should be taken seriously as well.
The jump from high school to college is a transitional period for many students. It's the responsibility of both students and parent to make sure that student choose colleges for academic reasons, rather than schools with reputations for throwing wild parties.
"The formative years of high school and college are extremely important," said Passages Treatment Center CEO Pax Prentiss. "The Passages clientele often trace their own stories of addiction and substance dependence back to college experiences, and it remains a priority to start forming positive, constructive habits at a young age. Our addiction treatment professionals in Malibu and Ventura do a great job helping people of all ages work through their dependencty issues, but in order to avoid these pitfalls in the first place, prevention is crucial."
At Passages Malibu - Addiction Ends Here™
About Passages Malibu & Passages Ventura:
Father and son team Chris and Pax Prentiss founded Passages Malibu in 2001. Its second location, Passages Ventura, first opened its doors in 2009. The two drug & alcohol abuse treatment centers offer an alternative to the 12 step/AA model of addiction treatment by utilizing a holistic program that focuses on the underlying issues of substance dependency, rather than attributing addiction to an incurable disease.
Both Passages Malibu and Passages Ventura accept insurance and each have earned the coveted Joint Commission (JCAHO) accreditation, which has only been given to 6% of the nation's behavioral health treatment programs.
Passages Malibu was named the #1 treatment center in the world by Healthcare Global, one of the "Most Luxurious Places to Dry Out" by Forbes magazine, and the Huffington Post recently acknowledged Passages as a center that "caters to a high-end crowd, with many CEOs, entrepreneurs and high-powered professionals among its clients."
The co-founders are also authors of an acclaimed series of addiction treatment books, including their groundbreaking, flagship title, The Alcoholism & Addiction Cure.
For general inquiries about treatment, contact: 866-233-1753.
For media inquiries, contact:
press(at)passagesmalibu(dot)com