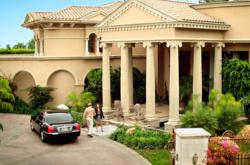 "By addressing the underlying problems of addiction, the Passages addiction treatment program has distinguished itself as being extremely effective at empowering our clients to overcome their addiction." - Pax Prentiss
Malibu, CA (PRWEB) April 23, 2013
An April 2nd story in the San Francisco Chronicle reported that statistics for deaths attributed to heroin are dramatically lower, citywide, following new treatment and overdose prevention measures.
At their peak levels in the mid-1990s, deaths from heroin overdoses were as high as 160 per year in the Northern California city. Those figures have since dropped to fewer than 10 per year. Additionally, emergency rooms in San Francisco reported a 49 percent drop in the number of heroin-related admissions between 2004 and 2010, based on data from the Drug Abuse Warning Network.
Heroin continues to be a steadily growing problem in many other parts of the US, however, with a rise in both drug seizures by police as well as heroin-related deaths in traditionally quiet parts of the US like Milwaukee, and Wisconsin. Milwaukee Public Radio reported, at the beginning of April, on the work of behavioral health clinician Tim McElroy at Columbia St. Mary's who has noted a marked increase of both prescription pain medication abuse as well as increased use of illicit opiates like heroin in the Midwest and Great Lakes region.
San Francisco successfully rolled out a publicly funded program to distribute naloxone kits in 2003. Naloxone is administered as a nasal spray or an injection which works to counteract the effects of a heroin overdose. San Francisco is one of the few US cities that have seen such dramatic results with this particular treatment.
Since first being implemented 10 years ago, naloxone has been attributed to saving more than 900 lives. In 2012, naloxone was used 274 times to reverse heroin overdoses, an uptick of the last year's 125 reported cases, according to the Drug Overdose Prevention and Education Project, a national advocacy group.
Prescription medication abuse, however, remains an issue across the United States. Passages Malibu has urged greater awareness of the growing problem of prescription medication abuse with several recent public announcements.
"Opiate addiction is truly troubling," says Pax Prentiss, CEO of the world-renowned Passages, "My own personal struggle with opiates was the foundation of the Passages treatment program, back in 2001. For people seeking treatment, there are a wide range of strategies, tools, and effective treatments that you can utilize to end addiction permanently. Unfortunately, the once an addict, always an addict mantra leads far too many people back down the road of relapse. By addressing the underlying problems of addiction, the Passages addiction treatment program has distinguished itself as being extremely effective at empowering our clients to overcome their addiction."
At Passages Malibu - Addiction Ends Here™
About Passages Malibu & Passages Ventura:
Father and son team Chris and Pax Prentiss founded Passages Malibu in 2001. Its second location, Passages Ventura, first opened its doors in 2009. The two alcohol & drug abuse treatment centers offer an alternative to the 12 step/AA model of addiction treatment by utilizing a holistic program that focuses on the underlying issues of substance dependency, rather than attributing addiction to an incurable disease.
Both Passages Malibu and Passages Ventura accept insurance and each have earned the coveted Joint Commission (JCAHO) accreditation, which has only been given to 6% of the nation's behavioral health treatment programs.
Passages Malibu was named the #1 treatment center in the world by Healthcare Global and one of the "Most Luxurious Places to Dry Out" by Forbes magazine. The co-founders are also authors of an acclaimed series of addiction treatment books, including their groundbreaking, flagship title, The Alcoholism & Addiction Cure.
For general inquiries about treatment, contact: 866-233-1753.
For media inquiries, contact:
press(at)passagesmalibu(dot)com