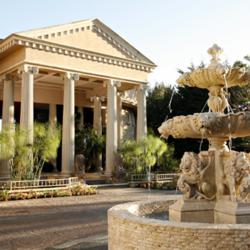 Achieving accreditation is a visible demonstration of excellence to the clients we serve, their families, and our staff.
Malibu, California (PRWEB) December 18, 2012
Passages, the world renowned addiction treatment facility with centers in Malibu and Ventura California, recently completed the annual JCAHO compliance training necessary for the continuation of this highly coveted healthcare accreditation.
The Joint Commission on the Accreditation of Healthcare Organizations (JCAHO) is a private, nonprofit organization whose mission is to continuously improve safety and patient care in the highest quality healthcare organizations around the county.
The declared mission of JCAHO is "To continuously improve health care for the public, in collaboration with other stakeholders, by evaluating health care organizations and inspiring them to excel in providing safe and effective care of the highest quality and value." Passages Malibu and Passages Ventura drug and alcohol addiction treatment centers are two of only 6% of the nation's behavioral health treatment programs that have earned the coveted JCAHO accreditation.
Founded by father and son team Chris and Pax Prentiss, Passages opened in 2001 and was one of the first substance abuse treatment centers to offer an alternative to the 12-step model of addiction treatment. Pax Prentiss, who is a former heroin, alcohol and cocaine addict, modeled the Passages program after the holistic treatment methods that ultimately worked for him after numerous failed attempts at AA and other treatment centers. He is now the CEO of Passages and has been sober for 12 years.
"Approximately 85% of the nation's hospitals are JCAHO Accredited, yet addiction treatment centers only account for a very small percentage of JCAHO approved facilities. We are proud to be a part of this elite group, as this speaks volumes about the level of patient-centered care we provide, the quality of medical services we offer and our overall level of competency in the healthcare field," said Prentiss.
The purpose of the training, which took place on December 12, 2012, is to ensure that staff members are informed of and trained for all patient-related protocols and facility safety requirements. It also confirms that the accredited facility has achieved and continually maintains clinical and professional compliance with all JCAHO provisions.
"This event marks a significant milestone and symbolizes the tremendous commitment we have to quality of care. Passages is one of the only addiction treatment facilities that has a full-time, in-house JCAHO compliance employee whose sole responsibly it to ensure that we are following each and every protocol accurately and effectively on a daily basis, and that our clients' needs are always met," added Prentiss.
Topics covered in the compliance training ranged from occupational safety and health, sexual harassment awareness and gender sensitivity training, cultural competency and patient-centered compassionate care training, HIPAA compliance and privacy procedures, fire safety training, workplace violence and emergency prevention, blood-borne pathogens and disease training and many more.
"Achieving accreditation is a visible demonstration of excellence to the clients we serve, their families, and our staff. We will continue to have an ongoing commitment to provide the safest, highest-quality of care in the entire addiction treatment industry," said Prentiss.
JCAHO updates its accreditation standards and expands patient safety goals on a yearly basis, while also conducting in-depth reviews of security and care delivery processes for all accredited institutions.
At Passages - Addiction Ends Here™
About Passages Malibu & Passages Ventura: 
Founded by Chris Prentiss and Pax Prentiss, Passages Malibu opened in 2001 with its second location, Passages Ventura, opening in 2009. The two drug and alcohol abuse treatment centers offer an alternative to the 12-step/AA model of addiction treatment by using a holistic approach and a program that focuses on the underlying issues of substance dependency, rather than suggesting that addiction is an incurable disease. Both Passages Malibu and Passages Ventura accept insurance and have earned the coveted JCAHO (Joint Commission on Accreditation of Healthcare Organizations) accreditation, which has only been given to 6% of the nation's behavioral health treatment programs. The co-founders are also authors of the acclaimed series of treatment books that include their groundbreaking flagship book, The Alcoholism & Addiction Cure. For general inquiries about treatment, contact: 866-233-1753
 
For more information on Passages Addiction Rehab Centers visit:
Passages YouTube Channel
Passages Facebook Fan Page
 
For press or media inquiries, contact:
press(at)passagesmalibu(dot)com