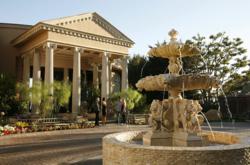 Prevention strategies, educational resources, and community access to mental health services are all crucial components of complete and permanent wellness and recovery.- Pax Prentiss
Malibu, CA (PRWEB) May 16, 2013
Passages Malibu and Passages Ventura are pleased to announce their participation in and celebration of National Mental Health Month, which runs throughout the entire month of May. Mental Health Month's aim is to call attention to strategies and approaches that will help Americans achieve wellness, increased mental health services, and overall education and prevention practices. This year's theme is "Pathways to Wellness."
"Mental health awareness and education is an essential component of living a full, happy, and productive life," said Pax Prentiss, CEO and co-founder of The Passages Addiction Treatment Centers. "Prevention strategies, educational resources, and community access to mental health services are all crucial components of complete and permanent wellness and recovery."
The 'May is Mental Health Month' movement was started 64 years ago by Mental Health America, a national organization dedicated to raising awareness about mental health conditions, mental health legislation and government protocols, lifestyle practices, and mental wellness across the country.
This year, the organization is focusing on four key areas of mental health awareness, including:

Wellness Education/What is 'Wellness'? Campaign
Four Simple Steps to Wellness
Understanding the Social Determinants of Mental Health
Addressing the Social Determinants of Mental Health
"Mental health is an essential component of overall well-being, and it also happens to be a key tenant of recovery from substance abuse," said Prentiss. "At Passages, our holistic approach is designed to heal the whole person – mind, body, and spirit - and to address all aspects of health for recovery, especially mental health."
At Passages Malibu - Addiction Ends Here™
About Passages Malibu & Passages Ventura:
Father and son team Chris and Pax Prentiss founded Passages Malibu in 2001. Its second location, Passages Ventura, first opened its doors in 2009. The two drug & alcohol abuse treatment centers offer an alternative to the 12 step/AA model of addiction treatment by utilizing a holistic program that focuses on the underlying issues of substance dependency, rather than attributing addiction to an incurable disease.
Both Passages Malibu and Passages Ventura accept insurance and each have earned the coveted Joint Commission (JCAHO) accreditation, which has only been given to 6% of the nation's behavioral health treatment programs.
Passages Malibu was named the #1 treatment center in the world by Healthcare Global, one of the "Most Luxurious Places to Dry Out" by Forbes magazine, and the Huffington Post recently acknowledged Passages as a center that "caters to a high-end crowd, with many CEOs, entrepreneurs and high-powered professionals among its clients."
The co-founders are also authors of an acclaimed series of addiction treatment books, including their groundbreaking, flagship title, The Alcoholism & Addiction Cure.
For general inquiries about treatment, contact: 866-233-1753.
For media inquiries, contact:
press(at)passagesmalibu(dot)com