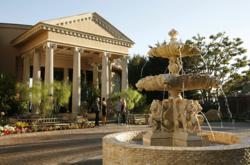 Opiate overdose is preventable, but the most important things we need to focus on are education and prevention. - Pax Prentiss
Malibu, CA (PRWEB) April 26, 2013
Recent legislation has been proposed to address the issue of remedying overdoses caused by opiate drugs, according to a recent article in the Los Angeles Times. The primary anti-overdose drug in question, Naloxone, is a relatively inexpensive generic medication that was approved by the FDA in 1971.
Naloxone is a non-narcotic drug that can reverse the potentially fatal effects of an opiate overdose. However, the availability of the drug is limited, and few medical practitioners or civilians have been made aware of its presence or know how to use it. As prescription drug overdose now leads as one of the top causes of accidental death, many supporters argue that Naloxone is a powerful tool that needs to be utilized and that there is no good reason for its absence in the medical and addiction treatment communities.
"Opiate overdose is preventable, but the most important things we need to focus on are education and prevention so that we don't have to get to the overdose stage in the first place," said Pax Prentiss, CEO and co-founder of the Passages Addiction Treatment Centers in Malibu and Ventura, California.
Naloxone is administered via injection or nasal spray and has no known negative side effects; however, the drug does require a prescription to be obtained and a third party to administer it. The antidote works by ejecting opiods from receptors in the brain, which reverses the respiratory depression experienced during overdose that can eventually lead to death.
Massachusetts has been a state that has taken a novel approach to Naloxone by utilizing it in overdose cases with substantial success. San Francisco has also made efforts to use the treatment, and in the last year they reported only eight heroin overdoses in comparison to more than 160 per year in the late 1990s. The program has also reduced emergency room visits for heroin overdoses by 49 percent.
There are several efforts being made in California alone to increase anti-overdose drug acceptance and availability. Assemblyman Richard Bloom (D-Santa Monica) is sponsoring legislation that would dedicate $500,000 to fund overdose prevention programs throughout the state, including Naloxone prescription and training programs. Another bill, which was introduced by Assemblyman Tom Ammiano (D-San Francisco), would encourage physicians statewide to prescribe Naloxone to patients and would allocate the medication through public health programs.
At Passages Malibu - Addiction Ends Here™
About Passages Malibu & Passages Ventura:
Father and son team Chris and Pax Prentiss founded Passages Malibu in 2001. Its second location, Passages Ventura, first opened its doors in 2009. The two alcohol and drug abuse treatment centers offer an alternative to the 12 step/AA model of addiction treatment by utilizing a holistic program that focuses on the underlying issues of substance dependency, rather than attributing addiction to an incurable disease.
Both Passages Malibu and Passages Ventura accept insurance and each have earned the coveted Joint Commission (JCAHO) accreditation, which has only been given to 6% of the nation's behavioral health treatment programs.
Passages Malibu was named the #1 treatment center in the world by Healthcare Global and one of the "Most Luxurious Places to Dry Out" by Forbes magazine. The co-founders are also authors of an acclaimed series of addiction treatment books, including their groundbreaking, flagship title, The Alcoholism & Addiction Cure. For general inquiries about treatment, contact: 866-233-1753.
For media inquiries, contact:
press(at)passagesmalibu(dot)com