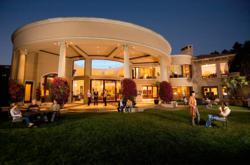 Prevention and education are two key factors in effectively and permanently reducing substance abuse across the country. - Pax Prentiss
Malibu, CA (PRWEB) May 12, 2013
The Passages Addiction Treatment Centers, located in Malibu and Ventura, California, are pleased to support and acknowledge National Prevention Week this May 12-17. This year marks the second annual National Prevention Week put on by the Substance Abuse and Mental Health Services Administration (SAMHSA).
National Prevention Week is dedicated to increasing public awareness about substance abuse and other mental health issues. Each year, individuals, healthcare providers, treatment centers, and community organizations work together to encourage prevention efforts, raise awareness, and endorse access to mental health services. The slogan for 2013 is "Your voice. Your choice. Make a difference."
"Prevention week is a great way to spread awareness about underage drinking, prescription drug abuse, and more," said Pax Prentiss, CEO and co-founder of Passages Malibu and Passages Ventura.
This year's National Prevention Week's themes are:
Sunday, May 12 – Smoking Prevention and Cessation
Monday May 13 – Prevention of Underage Drinking
Tuesday, May 14 – Prevention of Prescription and Illegal Drug Abuse
Wednesday, May 15 – Prevention of Alcohol Abuse and Alcohol Related Illnesses
Thursday, May 16 – Suicide Prevention
Friday, May 17 – Promotion of Mental, Emotional, and Behavioral Well-Being
"Prevention and education are two key factors in effectively and permanently reducing substance abuse across the country," added Prentiss. "At Passages, we are very fortunate to participate in this event and to have the opportunity to shed more light on these important issues."
If you would like to join Passages Malibu, Passages Ventura, and SAMHSA in celebrating National Prevention Week, there are many ways to participate. Some ideas include hosting an educational event, joining the conversation on social media channels, and participating in the "I Choose" Project, which encourages people to take and share photos of each other displaying a written statement about why or how they choose prevention.
At Passages Malibu - Addiction Ends Here™
About Passages Malibu & Passages Ventura:
Father and son team Chris and Pax Prentiss founded Passages Malibu in 2001. Its second location, Passages Ventura, first opened its doors in 2009. The two drug & alcohol abuse treatment centers offer an alternative to the 12 step/AA model of addiction treatment by utilizing a holistic program that focuses on the underlying issues of substance dependency, rather than attributing addiction to an incurable disease.
Both Passages Malibu and Passages Ventura accept insurance and each have earned the coveted Joint Commission (JCAHO) accreditation, which has only been given to 6% of the nation's behavioral health treatment programs.
Passages Malibu was named the #1 treatment center in the world by Healthcare Global, one of the "Most Luxurious Places to Dry Out" by Forbes magazine, and the Huffington Post recently acknowledged Passages as a center that "caters to a high-end crowd, with many CEOs, entrepreneurs and high-powered professionals among its clients."
The co-founders are also authors of an acclaimed series of addiction treatment books, including their groundbreaking, flagship title, The Alcoholism & Addiction Cure.
For general inquiries about treatment, contact: 866-233-1753.
For media inquiries, contact:
press(at)passagesmalibu(dot)com