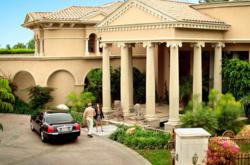 Malibu, CA (PRWEB) June 19, 2013
For the last three years, a national day of recognition for post-traumatic stress disorder (PTSD), a relatively common problem among Americans, has helped break the stigma associated with the condition. Roughly 60% of men and 50% of women experience some form of trauma during the course of their lives, including accidents, physical assaults, sexual assaults, combat, disaster, or witness an injury or death.
US Senator Kent Conrad introduced the idea of National Post-traumatic Stress Disorder day in 2010. Since then, greater awareness of the condition has contributed to help heal many men and women returning from service, as well as civilians who have face difficult or unfortunate challenges in their lives.
It is estimated that around 8% of the US population will have PTSD in their lifetime.
"In our medical experience, posttraumatic stress disorder is a serious issue that can often lead to substance dependence," said Pax Prentiss, CEO of Passages Addiction Treatment Centers. "Understanding, confronting, and healing PTSD has proven very helpful at getting closure with the underlying issues that often contribute to addiction. When people experience trauma in their lives and that trauma goes unresolved, it is not uncommon to begin self-medicating using illicit drugs, prescription medication, or alcohol. At Passages, we've helped thousands of people work through their traumatic experiences and heal the pain they've experienced in their lives."
At Passages Malibu - Addiction Ends Here™
About Passages Malibu & Passages Ventura:
Father and son team Chris and Pax Prentiss founded Passages Malibu in 2001. Its second location, Passages Ventura, first opened its doors in 2009. The two drug & alcohol abuse treatment centers offer an alternative to the 12 step/AA model of addiction treatment by utilizing a holistic program that focuses on the underlying issues of substance dependency, rather than attributing addiction to an incurable disease.
Both Passages Malibu and Passages Ventura accept insurance and each have earned the coveted Joint Commission (JCAHO) accreditation, which has only been given to 6% of the nation's behavioral health treatment programs.
Passages Malibu was named the #1 treatment center in the world by Healthcare Global, one of the "Most Luxurious Places to Dry Out" by Forbes magazine, and the Huffington Post recently acknowledged Passages as a center that "caters to a high-end crowd, with many CEOs, entrepreneurs and high-powered professionals among its clients."
The co-founders are also authors of an acclaimed series of addiction treatment books, including their groundbreaking, flagship title, The Alcoholism & Addiction Cure.
For general inquiries about treatment, contact: 866-233-1753.
For media inquiries, contact:
press(at)passagesmalibu(dot)com