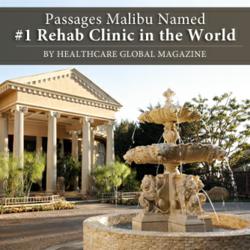 "We are always actively involved in the behavioral health and addiction recovery communities and are thrilled to promote this important national observance,"
- Pax Prentiss
Malibu, California (PRWEB) September 06, 2012
This September is National Recovery Month, an observance that promotes awareness and education regarding all aspects of mental and behavioral health including drug and alcohol addiction. Recovery Month is in its 23rd official year, with this year's slogan being: "Join the Voices of Recovery: It's Worth It."
Pax Prentiss, CEO and co-founder of the world-renown Passages Addiction Treatment Centers, is one of the many people in the addiction and behavioral health community who is eager to celebrate and recognize National Recovery Month's message. Pax celebrated his 12 year anniversary of being sober and addiction free early in September. "We are always actively involved in the behavioral health and addiction recovery communities and are thrilled to promote this important national observance," says Prentiss.
According to the Substance Abuse and Mental Health Services Administration (SAMHSA), a division of the U.S. Department of Health and Human Services, there are more than 20 million people in recovery from substance abuse disorders. With this in mind, National Recovery Month strives to highlight and honor the accomplishments made by those in recovery from either: drug addiction, alcohol addiction or mental illness. "There has always been such an unfair and unfortunate stigma associated with drug and alcohol abuse, and in recent years as people become more educated and informed about what causes addiction and other co-occurring disorders, I have seen this stigma drastically decrease. It's really a great thing to witness," explains Prentiss.
Recovery Month (check out more at htt://http://www.recoverymonth.gov) also aims to spread the message that mental and behavioral health is just as essential as physical health in regards to overall well-being. "National Recovery month is an excellent resource to create awareness and educate people about the huge weight of mental health and addiction issues in our society," says Prentiss. "It's really encouraging to see addiction on such a national platform. 20, 15, and even 10 years ago, addiction and behavioral health didn't get nearly the amount of recognition, research funding, and community acceptance that they do today. Centers like Passages try to get rid of the stigmas and show people that there is no shame in seeking help. It is something to be commended, not looked down upon, and we are glad that National Recovery Month also promotes that message."
September also marks the 12 year sober anniversary of Mr. Prentiss, who overcame his decade long battle with drug and alcohol addiction using one-on-one therapy and holistic treatment methods that are now the basis of the Passages Malibu treatment program.
"At Passages Treatment Centers we use a holistic approach that addresses the underlying physical, mental or emotional causes of addiction in order to help each client maintain their sobriety and regain control of their lives," says Prentiss.
Passages Malibu was named the "Number 1 Treatment Center in the World" by Healthcare Global, and has earned the coveted JCAHO (Joint Commission on Accreditation of Healthcare Organizations) accreditation, which has only been given to 6% of the nation's behavioral health treatment programs. Both Passages Malibu Rehab Center and Passages Ventura Rehab Center accept insurance.
At Passages Malibu - Addiction Ends Here™
About Passages Addiction Cure Centers:
Founded by Chris Prentiss and Pax Prentiss, Passages Malibu opened in 2001 with its second location, Passages Ventura, opening in 2009. The two drug and alcohol abuse treatment centers offer an alternative to the 12-step/AA model of addiction treatment by using a holistic approach and a program that focuses on the underlying issues of substance dependency, rather than suggesting that addiction is an incurable disease. Both Passages Malibu and Passages Ventura accept insurance and have earned the coveted JCAHO (Joint Commission on Accreditation of Healthcare Organizations) accreditation, which has only been given to 6% of the nation's behavioral health treatment programs. The co-founders are also authors of the acclaimed series of treatment books that include their groundbreaking flagship book, The Alcoholism & Addiction Cure. For general inquiries about treatment, contact: 866-233-1753
For media inquiries, contact:
press(at)passagesmalibu(dot)com