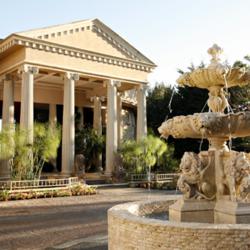 "At Passages, we employ numerous treatment modalities and customized programs specifically designed for our clients who are dealing with concurrent eating and substance abuse problems." Pax Prentiss
Malibu, CA (PRWEB) February 21, 2013
February 24-March 2 is National Eating Disorders Awareness Week, an annual event put on by the National Eating Disorders Association (NEDA) of America. The aim of the NEDAwareness Week is to enhance eating disorder prevention by creating awareness, providing educational resources, reducing shame around eating issues, increasing understanding and acceptance, and providing greater access to quality eating disorder specialized treatment. This year's theme is "Everybody Knows Somebody," as eating disorders have gained considerable public attention and visibility in recent years. Last year, NEDAwareness Week participants included volunteers, industry professionals, healthcare providers, and educators from all 50 states and 30 other countries.
Among those who suffer from eating disorders, alcohol and drug abuse issues are four times more common than in the general population. Pax Prentiss, CEO and co-founder of both Passages Malibu and Passages Ventura Addiction Treatment Centers, hopes that Passages can contribute to NEDAwareness Week by bringing attention to the co-occurring nature of eating disorders and substance abuse.
"Many people who come to Passages for drug and alcohol treatment are simultaneously dealing with an eating disorder, food addiction, or body image issues," said Prentiss. "These are behaviors that not only exist together, but they essentially feed off of and aggravate one another," added Prentiss. "At Passages, we employ numerous treatment modalities and customized programs specifically designed for our clients who are dealing with concurrent eating and substance abuse problems. We know - whether it comes to substance abuse or eating disorders – that prevention is a major part of treatment, which is why we teach our clients how to eat healthy, live healthy, and learn the tools to live an addiction free life."
At Passages Malibu, clients are treated by a medical doctor and undergo a complete intake assessment and physical examination to determine if any unhealthy eating behaviors are present upon arrival. Clients who show eating disorder patterns are then set up with a nutritionist/dietician to plan meals, receive nutrition education, and goal set. In addition, Passages' team of psychotherapists are well versed in treating all behavioral and eating addictions.
There are several reasons for the strong correlation between eating disorders and substance abuse. People with eating disorders often use substances like caffeine, diuretics, tobacco, cocaine, or even heroin in an effort to suppress their appetites, eventually leading to a full-blown chemical dependency. In addition to weight loss goals, abusing substances frequently begins as an attempt to self-medicate negative emotions accompanying an eating disorder, stress, anxiety, low self esteem, or depression.
"The sooner a person gets the treatment they need, whether it is for a substance abuse issue or an eating issue, the better," said Prentiss. "We actively support this event and will be a cognizant partner with the National Eating Disorders Association in creating awareness, treatment resources, and mindful educational options for people coping with eating disorders and addictions."
At Passages Malibu - Addiction Ends Here™
About Passages Malibu & Passages Ventura:
Founded by Chris and Pax Prentiss, Passages Malibu opened in 2001 with its second location, Passages Ventura, opening in 2009. The two drug and alcohol abuse treatment centers offer an alternative to the 12 step/AA model of addiction treatment by using a holistic approach and a program that focuses on the underlying issues of substance dependency, rather than attributing addiction to an incurable disease. Both Passages Malibu and Passages Ventura accept insurance and have earned the coveted JCAHO (Joint Commission on Accreditation of Healthcare Organizations) accreditation, which has only been given to 6% of the nation's behavioral health treatment programs. The co-founders are also authors of the acclaimed series of treatment books that include their groundbreaking flagship book, The Alcoholism & Addiction Cure. For general inquiries about treatment, contact: 866-233-1753.
For more information on Passages Addiction Rehab Centers visit:
Passages Facebook Fan Page
Follow Passages on Twitter
For media inquiries, contact:
press(at)passagesmalibu(dot)com