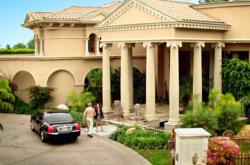 This issue within the NFL reflects the greater issue in our society. - Pax Prentiss
Malibu, CA (PRWEB) April 29, 2013
The prescription drug epidemic has been making headlines recently as the statistics regarding abuse rates continue to increase, and now the latest group being highlighted is the professional football community.
In a recent article by The Washington Post, the NFL's trend of painkiller use and abuse has led many NFL insiders to speak out regarding the issue. According to several current and former players, the availability and acceptance of prescription medication is comparable to popping aspirin; the act is frequent, common, and goes without question.
Recently, the FDA has attempted to tighten restrictions on prescription pain medications and limit the frequency at which doctors can prescribe them in order to combat abuse overall. "It's great that the FDA is trying to tighten restrictions so that hopefully, one aspect of this problem can be alleviated," said Pax Prentiss, CEO and co-founder of the Passages Addiction Treatment Centers in Malibu and Ventura, California.
Showing the harmful effects of prescription opiods through a very public and very popular lens like the NFL makes the reality of painkiller abuse extremely palpable and relatable. "NFL players are a unique group. They put themselves under so much physical duress, and sometimes they want a quick fix to keep playing even if their body is telling them no," added Prentiss. "It's very dangerous to use prescription painkillers as making agents because they give you a false sense of recovery and then eventually aggravate the underlying causes of the preliminary problems."
The NFL's potentially dangerous standard of managing pain is an issue that the league has faced for many years. The Washington Post surveyed more than 500 former NFL players about their experience with drug use while in the league, and one in four reported feeling pressure from team doctors or coaches to take medication they were hesitant about. The NFL's most recently reported rate of opiate abuse is seven percent, or about a four-to-one rate compared to the general population. 52 retired NFL players reported using opioids during their careers and of those, 71 percent reported misusing them.
Deaths caused by painkiller overdose now exceed those attributed to illegal drugs like cocaine, heroin, and amphetamines combined. "This issue within the NFL reflects the greater issue in our society," added Prentiss. "Whether it's in the NFL or in our communities at large, we need to stress education, prevention, and treatment in order to fully address the damage done to our nation by prescription drugs."
At Passages Malibu - Addiction Ends Here™
About Passages Malibu & Passages Ventura:
Father and son team Chris and Pax Prentiss founded Passages Malibu in 2001. Its second location, Passages Ventura, first opened its doors in 2009. The two alcohol and drug abuse treatment centers offer an alternative to the 12 step/AA model of addiction treatment by utilizing a holistic program that focuses on the underlying issues of substance dependency, rather than attributing addiction to an incurable disease.
Both Passages Malibu and Passages Ventura accept insurance and each have earned the coveted Joint Commission (JCAHO) accreditation, which has only been given to 6% of the nation's behavioral health treatment programs.
Passages Malibu was named the #1 treatment center in the world by Healthcare Global and one of the "Most Luxurious Places to Dry Out" by Forbes magazine. The co-founders are also authors of an acclaimed series of addiction treatment books, including their groundbreaking, flagship title, The Alcoholism & Addiction Cure. For general inquiries about treatment, contact: 866-233-1753.
For media inquiries, contact:
press(at)passagesmalibu(dot)com