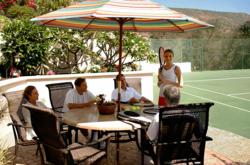 We offer pain management strategies at Passages that provide individual support outside of what the NHL has available. - Pax Prentiss
Malibu, CA (PRWEB) May 23, 2013
After spending six seasons in the NHL, Derek Boogaard earned a reputation for being one of the toughest professional hockey players in the league. When he died from an accidental overdose of prescription drugs in 2011, Boogaard showed signs of chronic traumatic encephalopathy, a brain ailment caused by repeated blows to the head, as well as a high level of alcohol in his blood.
At 6'7", 270 pounds, Derek Boogaard was a fighter/enforcer, meaning he spend a lot of time in the penalty box (589 minutes over his 277 game career). He fought 66 total times on the ice.
On May 13th, The New York Times reported that a Chicago law firm filed a wrongful death lawsuit against the NHL, alleging that the league failed to keep Boogaard "reasonably safe" and to "refrain from causing addiction to controlled substances." Among the substances that Boogaard allegedly struggled with were Oxycontin and Ambien.
Boogaard received 40 prescriptions from the Minnesota Wild medical staff for pain medication during the 2008-2009 hockey season; more than 1,200 painkillers. At the time of his overdose, Boogaard was recovering from a concussion, one of dozens he is believed that have sustained during his professional hockey career. Boogaard is also believed to have been administered Toradol, a powerful masking agent from pain, in the final two years of his career.
"Professional athletes compete at a level where they need to be aware of the dangers they face for the sake of their health and career," said Pax Prentiss, CEO of Passages Addiction Treatment Center. "Addiction to Prescription medication has steadily become one of the biggest health risks for people. Time and again, it seems that the perception among people is that if a doctor prescribes something, it is automatically safe. We offer pain management strategies at Passages that provide individual support outside of what the NHL has available."
At Passages Malibu - Addiction Ends Here™
About Passages Malibu & Passages Ventura:
Father and son team Chris and Pax Prentiss founded Passages Malibu in 2001. Its second location, Passages Ventura, first opened its doors in 2009. The two alcohol & drug abuse treatment centers offer an alternative to the 12 step/AA model of addiction treatment by utilizing a holistic program that focuses on the underlying issues of substance dependency, rather than attributing addiction to an incurable disease.
Both Passages Malibu and Passages Ventura accept insurance and each have earned the coveted Joint Commission (JCAHO) accreditation, which has only been given to 6% of the nation's behavioral health treatment programs.
Passages Malibu was named the #1 treatment center in the world by Healthcare Global, one of the "Most Luxurious Places to Dry Out" by Forbes magazine, and the Huffington Post recently acknowledged Passages as a center that "caters to a high-end crowd, with many CEOs, entrepreneurs and high-powered professionals among its clients."
The co-founders are also authors of an acclaimed series of addiction treatment books, including their groundbreaking, flagship title, The Alcoholism & Addiction Cure.
For general inquiries about treatment, contact: 866-233-1753.
For media inquiries, contact:
press(at)passagesmalibu(dot)com