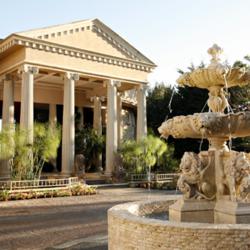 Malibu, California (PRWEB) November 13, 2012
The world's leading holistic drug and alcohol treatment center, Passages Malibu, is proud to announce the launch of its new Passages clothing line which can now be purchased on their new ecommerce PassagesWellnessStore.com. To celebrate the launch of their store, Passages is offering a 10% discount on all their clothing purchased now until the end of 2012. Just use promotional code "PERFECT" at check out.
The Passages clothing line is a great way to show off something you believe in, while maintaining the lifestyle and culture you're comfortable with. "We've created well-fitting, high quality pieces that proudly showcase the luxury image of our brand," said Pax Prentiss, CEO and co-founder of Passages. "Whether it's for our current clients, staff, alumni, or supporters, everyone who wants to show their Passages pride can now do so."
The clothing line includes menswear and womenswear featuring the Passages logo and the Its Perfect brand slogan. The Fall 2012 collection offers tees, tanks, hoodies, fleeces, and yoga pants in unique styles, colors, and materials. The new clothing line offers products designed with careful attention to detail and crafted with superior, luxury grade materials.
The Passages Wellness Store also features all of the company's books, audio cds, and many other accessories that reflect Passages' long-standing commitment to excellence.
"We continue to reaffirm ourselves as the undisputable leader in this industry by using high-end materials and chic designs, and we're extremely excited to see the Passages Malibu clothing take flight," said Prentiss.
The Passages Malibu Addiction Treatment Center was recently named the "Number 1 Treatment Center in the World" by Healthcare Global magazine, and "The Most Luxurious Place to Dry Out" by Forbes magazine. Both Passages Malibu and Passages Ventura rehab centers have earned the coveted JCAHO (Joint Commission on Accreditation of Healthcare Organizations) accreditation, which has only been given to 6% of the nation's behavioral health treatment programs. Both Passages Malibu and Passages Ventura accept most major insurance plans.
At Passages Malibu: Addiction Ends Here™
About Passages Malibu & Passages Ventura:
Founded by Chris Prentiss and Pax Prentiss, Passages Malibu opened in 2001 with its second location, Passages Ventura, opening in 2009. The two drug and alcohol abuse treatment centers offer an alternative to the 12-step/AA model of addiction treatment by using a holistic approach and a program that focuses on the underlying issues of substance dependency, rather than suggesting that addiction is an incurable disease. Both Passages Malibu and Passages Ventura accept insurance and have earned the coveted JCAHO (Joint Commission on Accreditation of Healthcare Organizations) accreditation, which has only been given to 6% of the nation's behavioral health treatment programs. The co-founders are also authors of the acclaimed series of treatment books that include their groundbreaking flagship book, The Alcoholism & Addiction Cure. For general inquiries about treatment, contact: 866-233-1753
For more information on Passages Addiction Rehab Centers visit:
For media inquiries, contact:
press(at)passagesmalibu(dot)com