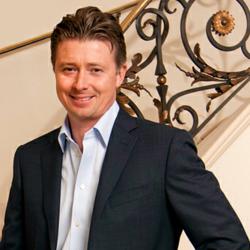 "We believe in a cure and after 12 years of being happy, healthy and sober, I believe in our treatment methods more than ever. I overcame my underlying issues, and I know that if I can do it, anyone can do it." - by Pax Prentiss
Malibu, California (PRWEB) August 30, 2012
Pax Prentiss, CEO and co-founder of the world famous Passages Malibu addiction rehab center, will celebrate 12 successful years of sobriety on September 4, 2012.
Prentiss is a former heroin, alcohol and cocaine addict. "It's amazing to look back and see how far I've come in the last 12 years, personally and professionally with Passages," he explains. "I was severely addicted to drugs and alcohol for over 10 years. I started abusing when I was just a teenager, and for years I lied, stole, went in and out of several treatment centers and 12-step programs, nearly died numerous times, and was so deep into my addiction that I thought there was no way out," he says. "I wouldn't be here today if my dad, Chris, had ever given up on me. He knew that we needed something different, which is how we came up with the Passages treatment program - it's what ultimately worked for me and saved my life."
Passages Malibu is one of the only substance abuse treatment centers to offer an alternative to the 12-step/AA model of addiction treatment and focus on healing the underlying issues causing drug and alcohol dependency. The Prentiss's modeled the Passages program after the holistic treatment methods that ultimately worked for Pax.
Prentiss credits his father's unconditional support with helping him get sober, as well as the birth of his daughter. "That was really a wakeup call for me. I knew I had to change my life for her, and after years of trying, my dad and I finally got it right. There was no looking back after that."
After eight years of successfully treating people dependent on drugs and alcohol at Passages Malibu, the Prentiss's decided to open their second location, Passages Ventura, in the small beach city of Port Hueneme, California, on May 17, 2009. Passages also released their groundbreaking flagship title, The Alcoholism & Addiction Cure, which includes a detailed account written by Pax describing his harrowing story of addiction and recovery from beginning to end.
Over the years, Prentiss has inspired thousands of people through his tale of addiction and sobriety. "It's really remarkable how much we have been able to achieve through Passages and how many people we have been able to reach. If my story can help people, then I have accomplished more than I ever thought possible." Prentiss' long-term plans are to open other Passages treatment centers and to continue to offer drug and alcohol abusers ways to access the Passages approach to complete addiction recovery.
While reflecting upon the last 12 years, Prentiss humbly acknowledges that Passages is stronger than ever due in part to his continued commitment to spreading the word about his own addiction recovery. "Our philosophy and the foundation of our treatment program is the same as it was over a decade ago when it worked for me - lots of one-on-one customized therapy and the same belief that addiction is not a disease," he says. "We believe in a cure and after 12 years of being happy, healthy and sober, I believe in our treatment methods more than ever. I overcame my underlying issues, and I know that if I can do it, anyone can do it."
Passages Malibu was recently named the "Number 1 Treatment Center in the World" by Healthcare Global, and has earned the coveted JCAHO (Joint Commission on Accreditation of Healthcare Organizations) accreditation, which has only been given to 6% of the nation's behavioral health treatment programs. Both Passages Malibu and Passages Ventura accept insurance.
At Passages Malibu: "Addiction Ends Here™"
About Passages Malibu & Passages Ventura:
Founded by Chris Prentiss and Pax Prentiss, Passages Malibu opened in 2001 with its second location, Passages Ventura, opening in 2009. The two drug and alcohol abuse treatment centers offer an alternative to the 12-step/AA model of addiction treatment by using a holistic approach and a program that focuses on the underlying issues of substance dependency, rather than suggesting that addiction is an incurable disease. Both Passages Malibu and Passages Ventura accept insurance and have earned the coveted JCAHO (Joint Commission on Accreditation of Healthcare Organizations) accreditation, which has only been given to 6% of the nation's behavioral health treatment programs. The co-founders are also authors of the acclaimed series of treatment books that include their groundbreaking flagship book, The Alcoholism & Addiction Cure. For general inquiries about treatment, contact: 866-233-1753
For more information on Passages Addiction Rehab Centers visit:
Passages YouTube Channel
Passages Facebook Fan Page
Passages Pinterest Boards
Passages Google Plus Page
Follow Passages on Twitter
For media inquiries, contact:
press(at)passagesmalibu(dot)com