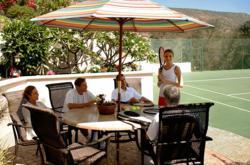 As a father, I see this kind of education as extremely important. -Pax Prentiss
Malibu, CA (PRWEB) June 12, 2013
A community prevention effort between Iowa State University and Pennsylvania State University released the inspiring results of a study that demonstrated ways to proactively engage American middle school teens and reduce prescription drug misuse and abuse.
The recently published study in Preventative Medicine found that prescription drug use could be cut by as much as 65% if teens participate in a community prevention effort like PROSPER, which stands for Promoting School-Community-University Partnerships to Enhance Resilience. The study involved 28 communities, evenly split between the state of Iowa and Pennsylvania.
The results of the study included surveys that were conducted six years after teens completed the PROSPER program. The groups were originally formed in the 1980s and 90s, targeting specific, at-risk age groups. The family focused and school-based approach, started with students in sixth grade, and maintained the goal of teaching parents and children skills to foster stronger relationships and more effectively handle exposure to substance use.
The benefits of the program were seen having a positive impact on prescription drug use, as well as other illicit substances, which in turn prevent issues with other problem behaviors like violence, academics, and overall economic factors, as well. The ripple effect that stems from substance use is also seen as harmful to the overall health of the community.
"We've seen such a substantial uptick in prescription medication abuse since first opening in 2001, that a program like this is absolutely necessary," said Pax Prentiss, CEO of Passages Addiction Treatment Centers. "At Passages, we help people work through the underlying issues tied to dependence on prescription medicine, illicit drugs, and alcohol. Preventative measures like PROSPER should be able help young people understand the dangers of prescription drug abuse before it becomes an issue. Perhaps most appropriately, as a father, I see this kind of education as extremely important."
At Passages Malibu - Addiction Ends Here™
About Passages Malibu & Passages Ventura:
Father and son team Chris and Pax Prentiss founded Passages Malibu in 2001. Its second location, Passages Ventura, first opened its doors in 2009. The two drug, alcohol, and prescription medication abuse treatment centers offer an alternative to the 12 step/AA model of addiction treatment by utilizing a holistic program that focuses on the underlying issues of substance dependency, rather than attributing addiction to an incurable disease.
Both Passages Malibu and Passages Ventura accept insurance and each have earned the coveted Joint Commission (JCAHO) accreditation, which has only been given to 6% of the nation's behavioral health treatment programs.
Passages Malibu was named the #1 treatment center in the world by Healthcare Global, one of the "Most Luxurious Places to Dry Out" by Forbes magazine, and the Huffington Post recently acknowledged Passages as a center that "caters to a high-end crowd, with many CEOs, entrepreneurs and high-powered professionals among its clients."
The co-founders are also authors of an acclaimed series of addiction treatment books, including their groundbreaking, flagship title, The Alcoholism & Addiction Cure.
For general inquiries about treatment, contact: 866-233-1753.
For media inquiries, contact:
press(at)passagesmalibu(dot)com