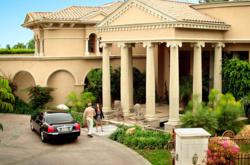 Sleep-inducing drugs merely provide a temporary solution and only mask the true underlying causes of insomnia. - Pax Prentiss
Malibu, CA (PRWEB) May 14, 2013
According to a recent article in USA Today, the number of emergency room visits attributed to sleep-inducing drugs (particularly Zolpidem, the active ingredient in Ambien) has risen drastically in both numerical scope and severity. According to a report by the Substance Abuse and Mental Health Administration, ER visits caused by sleep aids increased almost 220% from 2005 to 2010, and in 2010 alone there were 4.9 million visits to US emergency rooms that were directly related to drug use.
"Sleep-inducing drugs merely provide a temporary solution and only mask the true underlying causes of insomnia," said Pax Prentiss, CEO and co-founder of the Passages Addiction Treatment Centers in Malibu and Ventura, California. "When people use them to self medicate, particularly in conjunction with alcohol or other prescription medications, the results can be dangerous, devastating, and very serious," he added.
Sleep inducing drugs have been commonplace in the American medical landscape for years and are often referred to as a 'go-to' treatment for insomnia and various sleep disorders. One of the most common, Zolpidem, is approved by the FDA and is intended for 'short-term treatment of insomnia.'
In January, the FDA required makers of the drug to cut the recommended dosage in half for women and suggest a dosage reduction for men's due to increased reports of various health concerns and adverse side effects, including prolonged drowsiness, dizziness, hallucinations, and problems driving. These effects are particularly amplified when sleep aids are combined with alcohol, anti-anxiety medications, pain relievers, and other drugs.
"Although sleep drugs are primarily regarded as safe, it is crucial that they be used only for their intended purposes, that they be carefully monitored, and that they are never taken with other medications," added Prentiss. "The instances of ER visits and the overabundance of reported side effects speak for themselves; these drugs are not harmless."
At Passages Malibu - Addiction Ends Here™
About Passages Malibu & Passages Ventura:
Father and son team Chris and Pax Prentiss founded Passages Malibu in 2001. Its second location, Passages Ventura, first opened its doors in 2009. The two drug & alcohol abuse treatment centers offer an alternative to the 12 step/AA model of addiction treatment by utilizing a holistic program that focuses on the underlying issues of substance dependency, rather than attributing addiction to an incurable disease.
Both Passages Malibu and Passages Ventura accept insurance and each have earned the coveted Joint Commission (JCAHO) accreditation, which has only been given to 6% of the nation's behavioral health treatment programs.
Passages Malibu was named the #1 treatment center in the world by Healthcare Global, one of the "Most Luxurious Places to Dry Out" by Forbes magazine, and the Huffington Post recently acknowledged Passages as a center that "caters to a high-end crowd, with many CEOs, entrepreneurs and high-powered professionals among its clients."
The co-founders are also authors of an acclaimed series of addiction treatment books, including their groundbreaking, flagship title, The Alcoholism & Addiction Cure.
For general inquiries about treatment, contact: 866-233-1753.
For media inquiries, contact:
press(at)passagesmalibu(dot)com