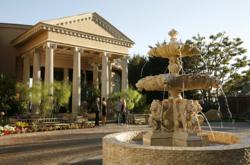 We are always looking for new ways to engage with the addiction treatment community and to get feedback regarding sobriety, what's working for people, and what isn't. - Pax Prentiss
Malibu, CA (PRWEB) May 19, 2013
Passages Malibu, the leading non-12 step, holistic, and non-disease model addiction treatment center, has announced this week the launch of a "Sobriety, Health, and Wellness" survey conducted completely through the brands' social media channels. "We are always looking for new ways to engage with the addiction treatment community and to get feedback regarding sobriety, what's working for people, and what isn't," said Pax Prentiss, CEO and co-founder of the Passages Addiction Treatment Centers located in Malibu and Ventura, California. "One of our top priorities has always been to give back to our clients, alumni, and the entire sober community, and we plan to achieve this by hearing their opinions and addressing their needs."
The survey will span over a two week period and consist of questions and polls aimed at Passages' alumni, staff, individuals in recovery, and fans of the brand. The feedback will then be compiled, repurposed and used to improve upon and reflect the needs of the community.
Passages Malibu has always been a pioneer in the addiction treatment industry, being the first treatment center of its kind to offer customized, one-on-one, holistic program based on a non-disease based philosophy. The company's reputation as an innovator and community leader has led them to conduct several engagement projects over the years, including numerous book giveaways and other outreach programs.
"We are presenting this survey in the social media format so that people can share the sober experience and discuss it in a positive, open manner," explained Prentiss. "We encourage people to participate in this survey so we can continue to provide the most progressive, personalized, and relevant addiction treatment resources available, and also to foster a sense of community with our online followers."
All parties interested in joining the conversation are encouraged to participate at Passages' Facebook page.
At Passages Malibu - Addiction Ends Here™
About Passages Malibu & Passages Ventura:
Father and son team Chris and Pax Prentiss founded Passages Malibu in 2001. Its second location, Passages Ventura, first opened its doors in 2009. The two drug & alcohol abuse treatment centers offer an alternative to the 12 step/AA model of addiction treatment by utilizing a holistic program that focuses on the underlying issues of substance dependency, rather than attributing addiction to an incurable disease.
Both Passages Malibu and Passages Ventura accept insurance and each have earned the coveted Joint Commission (JCAHO) accreditation, which has only been given to 6% of the nation's behavioral health treatment programs.
Passages Malibu was named the #1 treatment center in the world by Healthcare Global, one of the "Most Luxurious Places to Dry Out" by Forbes magazine, and the Huffington Post recently acknowledged Passages as a center that "caters to a high-end crowd, with many CEOs, entrepreneurs and high-powered professionals among its clients."
The co-founders are also authors of an acclaimed series of addiction treatment books, including their groundbreaking, flagship title, The Alcoholism & Addiction Cure.
For general inquiries about treatment, contact: 866-233-1753.
For media inquiries, contact:
press(at)passagesmalibu(dot)com