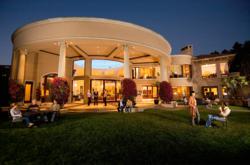 It's important that we teach our kids that binge drinking is not an acceptable way to have fun. - Pax Prentiss
Malibu, CA (PRWEB) April 04, 2013
Each spring break, millions of college students and teenagers escape to holiday locales and frequently engage in wild parties fueled by binge drinking and other dangerous behaviors. "Unfortunately, it's established as the norm to party during spring break, but it's important that we teach our kids that that's not an acceptable way to have fun," said Pax Prentiss, CEO and co-founder of the Passages Addiction Treatment Centers in Malibu and Ventura, California.
During spring break, teens and adolescents that are already susceptible to peer-pressure are particularly at risk. "These kids think alcohol will ultimately allow them to fit in, have a good time, and get some good memories. However, binge drinking usually doesn't go as planned and certainly doesn't paint such a pretty picture," explained Prentiss. "At Passages Ventura, we definitely see a surge in our younger clientele in the springtime."
St. Patrick's Day, spring break, graduation, and proms are all in near proximity to each other, causing the instances of drinking related issues among young people to intensify in the spring months. Each year, many cases of hospital admissions, alcohol poisoning, drunk driving arrests, and sexual assaults are reported during spring break vacations. Overall, binge drinking is linked to 1,400 college students' deaths annually according to research done by the Harvard School of Public Health.
According to the Centers for Disease Control and Prevention, 90% of underage drinkers binge drink, with some of them ingesting upwards of nine drinks at a time. Also according to the CDCP, binge drinking is defined as a male consuming five or more drinks and a female consuming four or more drinks within an hour. "Binge drinking is particularly dangerous because people are under the misconception that it's not a potentially addictive behavior because they're not drinking every day or all the time – they think that just because it's less frequent, it's ok," said Prentiss.
"People who start drinking at a young age are at a greater risk for developing a dependency on alcohol and using it as a coping mechanism, like I did," he said. "I started drinking and partying with my friends as a teenager and I eventually made it a routine to use drugs and alcohol as a numbing agent for all of my problems and the pain that they brought me." Mr. Prentiss was addiction to heroin, cocaine, and alcohol for over 10 years, and he recently celebrated 12 years of sobriety in September.
Many organizations and addiction treatment professionals are providing parents with suggestions and tools to keep their kids away from the dangers of spring break partying, including planning a family trip, engaging in a community service excursion, or joining a local athletic group.
"Any time of year when there is a surge in substance related behaviors, such as spring break, it is our responsibility to focus on prevention and get the word out," said Prentiss. "This year, I hope that parents, teachers, and kids promote responsible behavior and stay safe."
At Passages Malibu - Addiction Ends Here™
About Passages Malibu & Passages Ventura:
Father and son team Chris and Pax Prentiss founded Passages Malibu in 2001. Its second location, Passages Ventura, first opened its doors in 2009. The two alcohol and drug abuse treatment centers offer an alternative to the 12 step/AA model of addiction treatment by utilizing a holistic program that focuses on the underlying issues of substance dependency, rather than attributing addiction to an incurable disease.
Both Passages Malibu and Passages Ventura accept insurance and each have earned the coveted Joint Commission (JCAHO) accreditation, which has only been given to 6% of the nation's behavioral health treatment programs.
Passages Malibu was named the #1 treatment center in the world by Healthcare Global and one of the "Most Luxurious Places to Dry Out" by Forbes magazine. The co-founders are also authors of an acclaimed series of addiction treatment books, including their groundbreaking, flagship title, The Alcoholism & Addiction Cure. For general inquiries about treatment, contact: 866-233-1753.
For media inquiries, contact:
press(at)passagesmalibu(dot)com