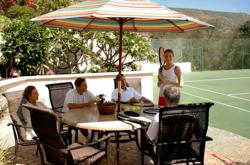 "Prescription medication abuse is something we've had to become all too familiar with at Passages." - Pax Prentiss
Malibu, CA (PRWEB) May 08, 2013
Call them ironic, call them tongue-in-cheek or in poor taste, but the fact remains that Urban Outfitters is making light of prescription medication use with a new line of drinking related products. The perception among many is that prescription medication is safer than illegal or illicit drugs.
The truth is that prescription medication is responsible for more deaths each year than heroin and cocaine combined. Mixing prescription medication with alcohol can intensify the negative effects of the drugs, making the product line all the more troubling.
In the past five years, deaths from prescription medication have increased 33%, and also outrank firearms and vehicles as the cause of accidental deaths in the US. Between 1999 and 2010 the number of deaths from prescription pain medication jumped from roughly 4,000 to more than 16,500 — a 400% increase in ten years. Prescription pain medication refers to opioid or narcotic pain relievers, such as Vicodin, OxyContin, Opana, and methadone.
The Partnership at Drugfree.org is currently sponsoring an online petition to stop Urban Outfitters from selling the products. Recent efforts to curb prescription pain medication abuse include a national take-back initiative which collected 371 tons of pills in April 2013.
"Prescription medication abuse is something we've had to become all too familiar with at Passages," said Pax Prentiss, CEO of Passages Addiction Treatment Center. "There is a common misconception that if a doctor prescribes something, it automatically makes it safe. Although we offer treatment to individuals dealing with illegal drug abuse and alcohol dependency, over the years, the clinical staff at Passages has had to become intimately aware of the nuances of treating prescription medication addiction. These products appear to trivialize that process, and I can safely state that this is no laughing matter."
At Passages Malibu - Addiction Ends Here™
About Passages Malibu & Passages Ventura:
Father and son team Chris and Pax Prentiss founded Passages Malibu in 2001. Its second location, Passages Ventura, first opened its doors in 2009. The two drug & alcohol abuse treatment centers offer an alternative to the 12 step/AA model of addiction treatment by utilizing a holistic program that focuses on the underlying issues of substance dependency, rather than attributing addiction to an incurable disease.
Both Passages Malibu and Passages Ventura accept insurance and each have earned the coveted Joint Commission (JCAHO) accreditation, which has only been given to 6% of the nation's behavioral health treatment programs.
Passages Malibu was named the #1 treatment center in the world by Healthcare Global, one of the "Most Luxurious Places to Dry Out" by Forbes magazine, and the Huffington Post recently acknowledged Passages as a center that "caters to a high-end crowd, with many CEOs, entrepreneurs and high-powered professionals among its clients."
The co-founders are also authors of an acclaimed series of addiction treatment books, including their groundbreaking, flagship title, The Alcoholism & Addiction Cure.
For general inquiries about treatment, contact: 866-233-1753.
For media inquiries, contact:
press(at)passagesmalibu(dot)com