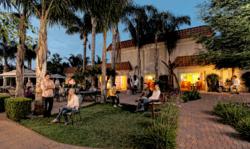 This anniversary is extremely significant because it symbolizes our continued dedication to high-quality, patient-centered care, and also our commitment to providing affordable, accessible treatment. - Pax Prentiss
Malibu, CA (PRWEB) May 15, 2013
Passages Ventura, sister facility of the world renowned non-12 step Passages Malibu addiction treatment center, celebrates four years of treating thousands of clients for drug and alcohol dependency this May 17, 2013.
Founded by father and son team Chris and Pax Prentiss, Passages Malibu opened in 2001 and was the first substance abuse rehab center to offer an alternative model of addiction treatment. After eight years of unparalleled success at the Malibu location, the Prentiss's decided to open Passages Ventura in the quaint beach city of Port Hueneme, California in 2009.
The Prentiss' modeled the Passages program after the holistic treatment methods that ultimately worked for Pax after numerous failed attempts at AA and 12 step treatment centers. He is now the CEO of both Passages Malibu and Passages Ventura and has been sober for 12 years due to the Passages method. "The treatment at our Ventura location is the same as our Malibu facility - customized therapy, a completely holistic approach, and the philosophy that addiction is not a disease," said Prentiss.
Since its inception, Passages Ventura has grown rapidly and achieved numerous milestones. "This anniversary is extremely significant because it symbolizes our continued dedication to high-quality, patient-centered care, and also our commitment to providing affordable, accessible treatment," explained Prentiss. "Our Ventura facility offers far more one-on-one therapy than all other similarly priced treatment centers, resulting in an excellent value and a priceless return for our clients."
Passages Ventura maintains an average census of 60 clients and offers three unique treatment programs, a complete medically supervised detox, and an expert full-time staff of addiction treatment professionals. Upon entering Passages Ventura, each client receives a team of 6-8 therapists and complete access to the facility, which boasts a fitness center, lounge areas, and over 12 unique treatment modalities, including the newest addition of art therapy.
Shortly after opening, Passages Ventura earned the coveted JCAHO (Joint Commission on Accreditation of Healthcare Organizations) accreditation, which has only been given to 6% of the nation's behavioral health treatment programs. Passages Malibu holds the same accreditation. "Our continued success is due to the fact that we ensure the highest quality in everything from our facilities and amenities to our medical procedures and accreditations," said Prentiss.
While reflecting upon the last four years, Prentiss proudly acknowledges Passages Ventura's many achievements. "I know there is no limit to Passages Ventura's continued growth," he said "We look forward to many more anniversaries so we can continue to help thousands more people permanently overcome their addictions. We're just getting started."
At Passages Malibu - Addiction Ends Here™
About Passages Malibu & Passages Ventura:
Father and son team Chris and Pax Prentiss founded Passages Malibu in 2001. Its second location, Passages Ventura, first opened its doors in 2009. The two drug & alcohol abuse treatment centers offer an alternative to the 12 step/AA model of addiction treatment by utilizing a holistic program that focuses on the underlying issues of substance dependency, rather than attributing addiction to an incurable disease. Both Passages Malibu and Passages Ventura accept insurance.
Passages Malibu was named the #1 treatment center in the world by Healthcare Global, one of the "Most Luxurious Places to Dry Out" by Forbes magazine, and the Huffington Post recently acknowledged Passages as a center that "caters to a high-end crowd, with many CEOs, entrepreneurs and high-powered professionals among its clients."
The co-founders are also authors of an acclaimed series of addiction treatment books, including their groundbreaking, flagship title, The Alcoholism & Addiction Cure. For general inquires about treatment, contact: 866-233-1753.
For media inquiries, contact:
press(at)passagesmalibu(dot)com