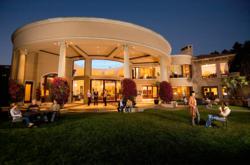 "The calming benefits of yoga fit nicely into the slate of progressive treatment options that we offer, including, acupuncture, Tai Chi, massage therapy, and meditation therapy." - Pax Prentiss
Malibu, CA (PRWEB) April 19, 2013
Recent positive support from addiction treatment specialist Dr. Gabor Maté in a profile in The Toronto Star demonstrate the growing momentum toward accepting yoga as a means to provide relief, promote healing, and enhance relaxation. Traditional western medicine has warmed up to yoga as evidence-based studies have demonstrated its effectiveness as a mood booster and a stress reliever.
Neurologists have begun advising their patients to try yoga for headaches triggered by neck pain and sports medicine professionals recommend its use in preventing injury. Dr. Gabor Maté's comments promoting the practice of yoga for treating addiction come as no surprise as the leading edge of more progressive treatment professionals have championed the benefits of yoga for many years.
"We've incorporated Yoga into our alternative treatment program since first opening in 2001," says Passages Addiction Treatment Center CEO Pax Prentiss, "The calming benefits of yoga fit nicely into the slate of progressive treatment options that we offer, including, acupuncture, Tai Chi, massage therapy, and meditation therapy. Our more traditional therapeutic treatment options continue to work effectively as ever, but when people turn to Passages, they feel comfortable knowing that they will enjoy the best treatment available from all walks of life, in a truly holistic fashion."
Yoga contributes to wellness, promotes relaxation, reduces blood pressure, and has been shown to assist in alleviating anxiety associated with drug and alcohol withdrawal. Passages Malibu also promotes the utilization of Tai Chi as a part of their holistic addiction treatment program.
"Yoga and Tai Chi are moving meditations. The postures and breathing bring a level of awareness in the moment, the now, that helps our clients face life in a better way. It teaches balance in all that they do. I love the end of the class when everyone is relaxed and so many are smiling and ready to face the day with a healthy outlook." says John Eversen, a Tai Chi teacher and acupuncturist at Passages Malibu.
Each of the alternative treatment methods fit together like a puzzle, allowing for the individual to restore the positive influences in their lives. Once completing the treatment program after a stay at Passages Malibu, clients graduate whole and complete, balanced human beings. Tai chi and yoga are often continued after graduating as healthy hobbies and skills that also offer a good social outlet. The continuing care aspect allows social interaction in positive non-destructive way.
At Passages Malibu - Addiction Ends Here™
About Passages Malibu & Passages Ventura:
Father and son team Chris and Pax Prentiss founded Passages Malibu in 2001. Its second location, Passages Ventura, first opened its doors in 2009. The two alcohol & drug abuse treatment centers offer an alternative to the 12 step/AA model of addiction treatment by utilizing a holistic program that focuses on the underlying issues of substance dependency, rather than attributing addiction to an incurable disease.
Both Passages Malibu and Passages Ventura accept insurance and each have earned the coveted Joint Commission (JCAHO) accreditation, which has only been given to 6% of the nation's behavioral health treatment programs.
Passages Malibu was named the #1 treatment center in the world by Healthcare Global and one of the "Most Luxurious Places to Dry Out" by Forbes magazine. The co-founders are also authors of an acclaimed series of addiction treatment books, including their groundbreaking, flagship title, The Alcoholism & Addiction Cure.
For general inquiries about treatment, contact: 866-233-1753.
For media inquiries, contact:
press(at)passagesmalibu(dot)com