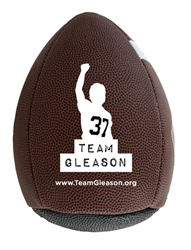 We couldn't be more proud to support Steve and Team Gleason, and to be part of their essential and life-changing work!
Spokane, WA (PRWEB) February 16, 2015
Passback Sports, the creator of the revolutionary Passback Football training aid, announced today that it has entered into a partnership with Team Gleason that will help the organization raise funds for ALS awareness and research.
Per the partnership, Passback Sports has created a special Team Gleason Passback Football, which features a silhouette of the organization's inspirational founder Steve Gleason, a former NFLer who was diagnosed in 2011 with ALS.
The Team Gleason Passback Football is available in both adult (official) and junior sizes, and can be purchased via the Team Gleason website at http://shop.teamgleason.org/products/passback-football-with-team-gleason-logo. All sales proceeds go to help the organization carry out its mission, which is to:

provide individuals with neuromuscular diseases or injuries with leading edge technology, equipment and services;
create a global conversation about ALS to ultimately find solutions and an end to the disease; and,
raise public awareness toward ALS by providing and documenting extraordinary life adventures for individuals with muscular diseases or injuries.
"Steve Gleason has had many triumphs on the gridiron, including his unforgettable blocked punt on the night that the Superdome in New Orleans re-opened after Hurricane Katrina," commented Passback Sports' CEO Corey F. Brock. "But in my view, it's Steve's incredible work after his career that truly makes him a hero. He continues to pursue life's adventures with the same passion that characterized his pro career, and through Team Gleason he is challenging the worlds of technology and science to identify their most promising developments towards new ALS treatments and, ultimately, a cure. We couldn't be more proud to support Steve and Team Gleason, and to be part of their essential and life-changing work!"
About Passback Sports
Passback Sports, Inc., home of the revolutionary Passback Football which is one of the world's leading training aids, was founded in 2012 to market exciting training products to the sports community that can make an impact.
Passback Sports' revolutionary Passback Football training aid is designed to be gripped and thrown like a traditional football, but with a game-changing twist: one end is rounded like a basketball, which makes it rebound back to its thrower. As a result, athletes at all levels can use the Passback Football to develop speed, power, agility, reaction and quickness, and ultimately improve game-day results. A commercial featuring former USC standout wide receiver and 12-year pro Johnnie Morton is available at https://www.youtube.com/watch?v=QRRlwVvfvpI. More information on the Passback Football, along with Passback Sports' other training aid products for basketball, baseball and other sports, is available at http://www.passbacksports.com.