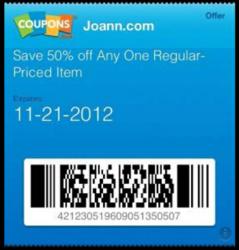 Having strong retail partnerships and gaining new integrated buying opportunity for the consumer and for the retailer is key for Marketers. As one would expect, Passbook is in testing mode.~ Integrated Media
Minneapolis, Minnesota (PRWEB) October 28, 2012
Coupons.com profits by earning a revenue from advertising and distributing digital coupons, including online printable, social media, mobile marketing and loyalty card promotions, in Sunday newspapers. Yesterday, for their next marketing venture, the company launched Passbook integration for 20 big-box retailers, allowing consumers to save a selection of its coupons to your iPhone, iPod touch or iPad running iOS 6.
Integral Media, a Minneapolis based nation-wide marketing consultants group, commented that, "Passbook is a digital version of highly successful print coupons found in traditional media mediums like: newspapers, magazines, flyers, advertising leaflets and shopping guides. It is interesting that in our day of empowering user choices, the new app cannot be deleted from iOS 6. However, consumers do have options from the information button".
The list of retailers and brands that launched on October 23 included: Avenue, Barnes & Noble, Bon-Ton, Carter's, Champion, Gordmans, Harbor Freight Tools, Jo-Ann, Lane Bryant, Macy's, Michaels, Old Navy, OshKosh B'gosh, PETCO, PetSmart, Shopko, Spirit Halloween, Sweet Tomatoes, ULTA Beauty and Yankee Candle.
Only available for American stores, its marketing platform is pretty forthright. Here are the basic steps Retailers take to try their hand at this new marketing experience.
1) Retailers must have access to Coupons.com from an iPhone or iPod Touch (the iPad doesn't support Passbook, and won't work for adding passes from there).
2) Retailers are then given choices for what their coupon advertisement will look like, make a selection and tap on the Add to Passbook button.
3) The Passbook-integrated coupon adds an expiration date, a scannable barcode and a description of the offer for a retail sale.
4) Cashiers scan the code or use a numeric code on the back of a Passbook card for the processing that applies the offer to the applicable purchase.
"It won't alert you or automatically pull up once you get close to the store. But, a discount is a discount, and if you have to work a bit more for it by actually unlocking your device and opening Passbook, so be it," as reported by CNET, it is not a perfect retail sales marketing system and does not include location information. Others have noted that, at this point, options are missing at coupons.com to automatically notify users when they are near a store, as some Passbook passes can.
For an example, consumers are offered up to 50% off one item at Jo-Ann Fabric, $10 off a $50 purchase at Old Navy, $20 off a $45 purchase at Yankee Candle and many other similar advertised deals. Today's smart consumers love to talk about new ways to shop, and amidst try-outs. While Passbook only this only works on a smaller devices at this time, testing results will be forth coming and marketing is always redefining itself.
"The world of marketing is about giving consumers more choices and helping businesses expand their marketing reach to new audiences. We are passionate to engage new integrated marketing opportunities for retail sales. We are particularly adept at helping marketers expand beyond just their online marketing efforts, as the majority of customers for most products and services are reached offline," says Eric Sims.
"Passbook is yet another leading example of how digital delivery is all about convenience and on-demand consumer availability," said Steven Boal, CEO of Coupons.com Incorporated, leading the charge for the new launch. "Consumers, retailers and manufacturers are converging on the best user experience across the digital shopping domain, and Coupons.com is leading and unifying the experience across the technical landscape. With the largest number of retailer offers for Apple's Passbook, Coupons.com is breaking new ground in consumer convenience."
Media, deployed effectively, is integral to the success of any business marketing campaign. Contact Integral Media at 952-470-5254 for marketing retail sales experts who work with best in class media partners to deliver the lowest cost, most responsive media buys.