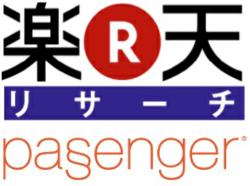 "What Passenger and Rakuten have accomplished is truly a game changer for the entire research and insights community. I am enthused to think about the expansion of Passenger as we reach out with Rakuten to better engage brands with Japanese consumers."
Los Angeles, CA (PRWEB) November 27, 2012
Passenger (thinkpassenger.com), the leader in innovation and research community software as a service, and Rakuten Research, Inc. (research.rakuten.co.jp), Japan's premiere research agency, today announced the launch of their first localized Japanese community. Earlier this year the two companies announced their partnership with the intent to create online communities specifically for Japanese consumers in their native language. The first of these communities has just launched with over 800 Japanese members participating.
Manabu Mori, CEO Rakuten Research, states, "We are extremely excited about the launch of our first Japanese language community. It will be the first of many innovation and insight communities that we will create with the Passenger team."
Passenger's CEO, Bahram Nour-Omid said "What Passenger and Rakuten have accomplished is truly a game changer for the entire research and insights community. I am enthused to think about the expansion of Passenger as we reach out with Rakuten to better engage brands with Japanese consumers."
Planning and production for additional communities with leading Japanese companies are also underway.
About Rakuten Research, Inc.
As a group company of Rakuten, Inc. which is the leading e-commerce platform in Japan and one of the world's leading Internet service companies, Rakuten Research, Inc. offers research services such as online surveys, utilizing the largest number of survey panels in Japan to deliver insightful research solutions for making decisions. The Rakuten Group provides a variety of consumer and business-focused services including e-commerce, eBooks & eReading, travel, banking, securities, credit card, e-money, portal & media, online marketing and professional sports. Rakuten is expanding globally and currently has operations throughout Asia, Europe, the Americas, and Oceania. Founded in 1997, Rakuten is headquartered in Tokyo, with over 10,000 employees and partner staffs worldwide. For more information, visit: research.rakuten.co.jp.
About Passenger
Passenger communities enable the worlds leading brands to connect, create and communicate with key stakeholders online, on mobile and on social networks. Passenger combines industry-leading technology with expert community management and engagement services to allow your brand to connect in real-time with your community to inform research, product development, and marketing decisions. In addition, all of the data collected from the social brand intelligence platform is warehoused in a single database with robust analytic capabilities, which provides a holistic view of your social brand community, and actionable, member-driven insights. For more information, visit http://www.thinkpassenger.com.