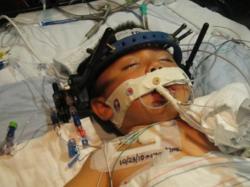 This is not a luxury - it is a necessity for Izaiah's health.
San Diego, CA (PRWEB) June 29, 2011
Passion 4 K.I.D.S has launched a major campaign called "Izaiah's House" to raise funds for a small specially equipped home for a baby struck by a teen drunk driver.
Izaiah Wallis, an 18 month old energetic baby, was being wheeled in his stroller on the sidewalk by his grandfather on the way to the park when suddenly his life was forever changed by a teen drunk and "high"driver who violently struck him at 9 am on a Monday morning. Eight months and six surgeries later, Izaiah continues to be paralyzed from the neck down with severe brain damage, partially blind, is nourished through a feeding tube, has a colostomy and breathes through a ventilator and tracheotomy.
Doctors have told Izaiah's young parents that short of a miracle Izaiah will remain in this condition for the remainder of his life. Izaiah was released to come home and will require 24/7 care, physical and occupational therapy for his entire life. These staggering costs will be the sole responsibility of Izaiah's 21 year old parents who have no health insurance. The teen responsible for the accident was here illegally and had no insurance or license. According to an article on Sign On San Diego, the teen responsible for the accident was here illegally and had no insurance or license. In November he subsequently plead guilty to drunk driving and was sentenced to serve up to 480 days in custody – the harshest sentence he could receive. To date the medical bills for Izaiah total over $3.5 million. His mom recently went back to part-time minimum wage work to earn some income for the family and his dad stays at home 24/7 caring for Izaiah and running all the medical machines that are keeping him alive.
Recently the doctor who is overseeing his post-hospital treatment has indicated that it is a medical necessity that Izaiah get into another home as soon as possible for many reasons affecting his health: the current home is termite-infested and his immune system cannot tolerate for it to be fumigated, there are possible lead paint and asbestos issues, the windows in his room are far from airtight and the dampness and air get in very severely, the halls cannot accommodate his wheelchair, the bathroom door cannot accommodate his wheelchair, his wheelchair cannot get into the shower to bathe him, etc. According to the doctor, "This is not a luxury - it is a necessity for Izaiah's health."
This has been a huge media story in San Diego for the past 8 months and has now gone national with coverage on MSNBC and Univision.
Passion 4 K.I.D.S. desperately needs help to reach the initial goal of $85,000 for a down payment and the ultimate goal of $350,000 for the home to be paid in full. Progress can be charted on the home page of Passion 4 K.I.D.S.
A video has been published about baby Izaiah's heart-wrenching story.
About Passion 4 K.I.D.S. : Passion 4 K.I.D.S. (Kids In Desperate Situations) is a 501 (c) (3) non-profit organization dealing with homeless, neglected, abandoned, abused and underprivileged children of any race, color and creed. Because of founder, Charles Van Kessler's, background having been raised in a state run orphanage during WWII surviving on flower bulbs and enduring every abuse imaginable, he started Passion 4 K.I.D.S. in 1986. When he met his bride in 2001 in San Diego, together with his wife Linda, they developed the charity into a more active organization. With Linda being a mentor for the San Diego County Foster Youth Program, Charles' and Linda's love for children makes it a perfect fit to expand their meaningful humanitarian mission.
Charles and Linda believe in having a very hands on approach both in the day to day operations of the charity as well as the lives of the children they work with. Passion 4 K.I.D.S. donates Passion 4 Life liquid vitamins to quadriplegic, autistic and ADD/ADHD children who can't afford it. Linda also mentors foster youth in San Diego and, together with Charles, spends many weekends taking these children on fun one-on-one outings so they can bring joy, love and stability to these turbulent young lives. They build lasting relationships with the children which continue long after the children leave the Foster Youth Program. In addition, Passion 4 K.I.D.S. raises funds for children in acute, life-threatening situations. 100% of your donation goes directly to the children. There is NO overhead taken out.
Passion 4 K.I.D.S' Mission Statement:
"To dedicate ourselves to glorify and honor God for His many blessings to us by making a difference in the lives of the most vulnerable and precious of His creation – children"
###