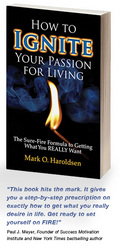 Most of us have experienced great passion at times - but it dissipates quickly. Real living is squeezing out every bit of passion in living for your entire life. Sometimes this lesson comes after a huge and catastrophic event but it's possible to have a fully passionate life without going through suffering first
Salt Lake City, UT (PRWEB) April 20, 2009
How to Ignite your Passion for Living - The Sure-Fire Formula to Getting What you REALLY Want is a new book by Mark O. Haroldsen. The book explains simple formulas to help the reader discover and achieve their goals.
Many people dream but their dreams are not realized. They fail to reach those dreams and in the process lose passion for life. But there is a way to get the discipline, consistent behavior and actions to accomplish goals - even when a person gets discouraged.
A growing trend for bloggers is to focus on what makes a person happy. Rather than advocate happiness as a pursuit, Haroldsen teaches that happiness is a by-product of achieving goals. The satisfaction and contentment gained from reaching goals is longer lasting than fleeting feelings of happiness.
Haroldsen's quest in life was ignited when he was just fifteen years old. He had a huge wakeup call when his brother died practically at his feet while they were playing basketball. From that moment he realized that a short life demanded large passion. He vowed to live the rest of his life passionately, a goal that is more of a journey than an end.
It's easy to feel passion in the short term but harder to maintain the feeling. "Most of us have experienced great passion at times - but it dissipates quickly. Real living is squeezing out every bit of passion in living for your entire life. Sometimes this lesson comes after a huge and catastrophic event but it's possible to have a fully passionate life without going through suffering first," said Haroldsen.
One way to create passion is to activate the brain with increasing goals. "The brain needs challenges, new experiences and goals. Any goal you set can be reached, but to create passion you've got to do more than attain or own something. Instead, work for a large goal over time - that increases personal satisfaction," said Haroldsen.
This book has wisdom from a life lived with passion along with examples from great people who have inspired Haroldsen in his life. The lessons shared are already impacting thousands of lives.
About Mark O. Haroldsen
Mark O. Haroldsen has practiced what he teaches in his book about reaching goals. It took him just four short years to make over a million dollars. He founded and successfully ran a real estate investing seminar company from 1978 to 1990, presenting up to 50 seminars a week across the United States.
He is the author of four books on real estate investing - one of which, How To Wake Up The Financial Genius Inside You, has sold over two million copies. He also published the Financial Freedom Report, a real estate investing magazine, for over 20 years.
In addition to playing and excelling at tennis, Mark is currently the CEO of Bridge Loan Funding Corporation, a private capital group.
How to Ignite Your Passion for Living can be purchased by visiting IgniteMyLifeNow.com. For a limited time this 209-page book is FREE at http://www.ignitemylifenow.com/book/. Simply pay the shipping and handling. Mark's blog is at http://www.ignitemylifenow.com/blog
See an interview with Mark O. Haroldsen about the book on YouTube at http://www.youtube.come/watch/v=_Z4AjVZv68M
To arrange a book signing or interview with Mark O. Haroldsen, please contact Mike Hansen at 801-738-1087
###