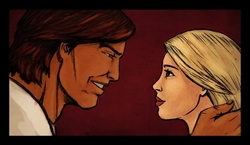 We can tell you that this isn't your usual sappy, throwaway love story. Be prepared for a plot that has some kick to it, with gameplay to match.--Gamezebo
New York, NY (PRWEB) April 28, 2010
PassionFruit Games today releases Tiger Eye: Curse of the Riddle Box, the paranormal romance casual video game for the PC based on New York Times bestselling author Marjorie M. Liu's Tiger Eye novel. The Mac version of the game will launch soon after, in May.
The Tiger Eye novel on which the game is based, which Publishers Weekly praised as a "first-rate debut" and "a striking paranormal romance," tells the story of Dela, a woman with psychic abilities who buys a riddle box in Beijing's Dirt Market and opens it to find an ancient warrior, Hari, bound to serve as a slave to whomever has opened the box. PassionFruit Games will mirror the international scope of the book through two games, the first to take place in China and the second in the U.S.
To celebrate their premier title, PassionFruit Games is inviting fans and members of the media to a launch party today, Wednesday, April 28th at http://www.passionfruitgames.com/releaseparty from 7:00 to 9:00 pm EST (4:00 to 6:00pm PST). Attendees will be able to chat with Tiger Eye game developers, artists, programmers, and author Marjorie M. Liu. They will also be able to ask for and share tips about the game, and will also be entered into a raffle with the chance to win PassionFruit merchandise, copies of the Tiger Eye novel, and an advance galley copy of A Wild Light, the next Hunter Kiss novel set to release July 28th. They also have the chance to win collectible variant covers of Liu's Black Widow Marvel comic book and a framed signed cover of the next Dirk & Steele novel, In the Dark of Dreams, when it goes on-sale this November. And finally, visitors will learn how to participate in an online mystery adventure set in Liu's Dirk & Steele universe.
Melissa Heidrich, Studio Director of PassionFruit Games, says of the launch: "Looking back, it's incredible what our team has accomplished in the last six months. The ten of us on the development side had been laid off together and had no office, no equipment, no funding – what we had were a romance novel and some great ideas. Since then, we've started our own studio, figured out how to translate that romance novel into interactive entertainment, and now have this amazingly fun game that has been very well-received by our testers."
These testers are a slice of the market PassionFruit Games is working hard to reach out to, namely women aged 25 to 65. Since romance readers and casual gamers have similar attributes—both groups encompassing mainly women who enjoy a good story or activity to relax and escape—PassionFruit Games has taken great pains to work closely with women from both demographics.
Says Ayu Othman, the Art Director at PassionFruit Games: "Getting input from our target audience has been an extremely important process throughout our game's development. At every major milestone, we have conducted focus testing and have refined and optimized the game based on player feedback."
Providing a great background story to the game was a primary goal, and one to which testers responded well. Gamezebo.com, a leading casual gaming site which previewed an early version of Tiger Eye, wrote "we can tell you that this isn't your usual sappy, throwaway love story. Be prepared for a plot that has some kick to it, with gameplay to match."
The Tiger Eye: Curse of the Riddle Box game breaks new ground when it goes on-sale today:

This is the premier title for PassionFruit Games and is put together by the same team members who developed the critically acclaimed Nancy Drew Dossier: Resorting to Danger when they were at Her Interactive; that game was chosen as the "Best Hidden Object Game of 2009" by Yahoo! Games
This is one of the first romance casual games to hit the U.S. market. Although a market for romance themed video games has existed abroad for years, these games are still essentially unknown here
May is Asian Pacific American Heritage Month (APAHM) and PassionFruit Games is proud to be releasing their premier game, which is set in the rich cultural setting of China, in time to celebrate it. At the same time, both Liu and many members of the PassionFruit Games team are celebrating their own Asian heritage and hoping that this year of the Tiger will give their Tiger Eye: Curse of the Riddle Box game a lot of luck!
The game features a timeless love story and a shape-changing hero from ages past, making Tiger Eye: Curse of the Riddle Box the first game based on a PARANORMAL romance novel and released into the American market
The game heavily features a sexy leading man, instead of scantily clad women, and the game's cut scenes feature animated and sensual sequences and voice-acted story development that further the relationship of the two main characters
The game features a film-quality soundtrack composed and scored for full orchestra by critically acclaimed composer Matt Sayre. This includes more than 70 minutes of custom music, which is very unusual for a casual game
A huge variety of different types of puzzles are featured: in addition to hidden object finding, the game also features all kinds of brain teasers, word games, spatial activities, and logic puzzles, as well as a match-3 minigame
The author of the original Tiger Eye novel, New York Times bestselling author Marjorie M. Liu, actually wrote the game's script herself and was involved with the game every step of the way, giving input on scene art, character design, and voice actor selection
PassionFruit Games and Marjorie M. Liu recently hit their goal of collecting 300 tweets with the hash tag #Share Love towards their donation of a desktop with the Tiger Eye game on it to Women in Need, a New York City area women's shelter.
Says Alyssa Montoya, Volunteer & Event Coordinator for Women In Need, Inc. of the donation: "For over 25 years, Women in Need has provided New York City's homeless women and their families with safe housing, support, and the skills to become self-reliant. It's fantastic to have supporters like Marjorie M. Liu and PassionFruit Games—their generous donation of much needed computer equipment can help women look for work and learn the skills they need to continue on their journey towards self-sufficiency. It is inspiring that PassionFruit Games is a company run by women who provide entertainment for other women through their romance casual games. This donation brings what they are doing full circle."
An ancient warrior with an ancient curse.
Only you can break it and unlock his heart.
Buy Tiger Eye: Curse of the Riddle Box now exclusively at http://www.passionfruitgames.com
Select the Premium game package for $9.99 or the Standard game package for $6.99
*Also available at a later date at major casual gaming portals
You can also check out Tiger Eye (the novel) by Marjorie M. Liu, a Dorchester Love Spell paperback, $6.99, to be re-released by Harper Collins/Avon in January 2011, http://www.marjoriemliu.com
For more information on the game or the novel, contact Elena Stokes, Partner & Founder, Wunderkind PR, elena(at)wunderkind-pr(dot)com , cell: 917.887.0784
Marjorie M. Liu is an attorney, and the New York Times bestselling author of short stories, novellas, and two ongoing series: Dirk & Steele novels of paranormal romance, and the Hunter Kiss urban fantasy series. She wrote NYX: No Way Home, X-23, and Black Widow, for Marvel Comics, and is co-writing the ongoing bestselling Dark Wolverine series. Liu divides her time between the beautiful state of Indiana, and Beijing/Shanghai, China. For a complete listing of all her work, please visit her website at: http://www.marjoriemliu.com
PassionFruit Games prides itself in being one of the first companies to make games written by, designed by, and created for intelligent, savvy, romance-seeking women. Working out of their home base in Seattle, the company's mission is to bring stories and characters to life through lushly-painted interactive environments and captivating cinematics, while providing engaging, entertaining gameplay. The last game the PassionFruit Games team created together, Nancy Drew Dossier: Resorting to Danger, was chosen as the "Best Hidden Object Game of 2009" by Yahoo! Games.
###