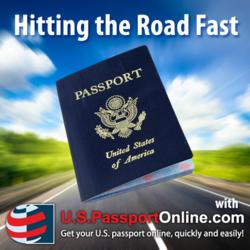 With proven success and demonstrated excellence in customer service, U.S. Passport Online serves the 110 million U.S. citizens without a valid passport
(PRWEB) February 06, 2013
U.S. Passport Online, the leader in the online passport expediting industry, reports a targeted increase in sales by one-hundred percent for the months of January. Despite the holiday travel season being the busiest of the year, low rates and special deals offered during the post-holiday months combine for an increase in demand for short-notice passports.
U.S. Passport Online anticipates an influx in expedited U.S. passport requests that surpasses even those made during the busy holiday travel season. January and February are typically the slowest months for the travel industry. However, as the Huffington Post reports, these months offer the lowest fares of the year. Online web sites such as Expedia and Travelocity also post special deals, including to international locations, to increase interest in traveling during January and February.
For those who take advantage of the new year's travel fares and deals, U.S. Passport Online provides an invaluable service to those traveling internationally for the first time, and for those needing to renew or replace U.S. passports. The leader in the online U.S. Passport expediting industry, U.S. Passport Online expedites the passport application process by up to twenty-four hours. The standard process time of the U.S. government for expedited passports is two weeks. U.S. Passport Online is an authorized courier service to handle the passport process on behalf of customers and deliver documents.
Personal case managers of US Passport Online are available to guide customers through every step of the application process. Customers no longer have to wait in long lines or spend hours doing research on the process. Instead, U.S. Passport Online makes the process streamlined and easy, so last-minute travelers make it to the end destination without hassle. When a customer encounters a great rate on round-trip fare to Cancun, the customer can book the ticket as soon as possible, even if the customer doesn't have a passport. U.S. Passport Online makes short-notice international travel available to everyone.
With proven success and demonstrated excellence in customer service, U.S. Passport Online serves the 110 million U.S. citizens without a valid passport, according to Forbes. As reported by the Houston Chronicle, the online vendor has delivered more than 100,000 passports.