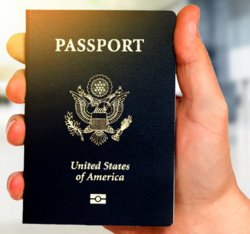 I knew I was gonna be traveling in a few months of realizing that my passport was going to expire. Luckily i had noticed that it was going to expire. I followed the instructions fastportpassport.com gave me. Within two weeks I had a renewed passport.
Brooklyn, NY (PRWEB) November 21, 2012
For those people who travel often and require vital travel documents, this travel season will offer the same hurdles as every other year. Getting prepared for a trip and realizing that a vital document needs to be renewed or attained for the first time in order to continue on the family holiday vacation. In order to attain a passport or visa, a regisitered passport expediter is a more viable option fo those who are in a rush and cannot afford to wait the lengthy time the post office seems to take. Many travelers do not realize that a passport can be renewed, without leaving the comfort of your home or office. Renewers can send their documents via Federal Express, to a registered passport expeditor who will hand carry the documents to the U.S. Department of State, facilitating the renewal process for you. For this circumstance to happen, the passport cannot be expired more than 5 years; it can also be renewed as early as needed. Only with a passport renewal can a traveler have the document expedited without physically having to go to a expeditor or the post office. The only thing that the applicant needs is one passport photo, which can be printed for free.
The U.S. Post Office expedited service can take up to 3 - 4 weeks. Applicants must go to the post office, get one passport photo as well as pay for priority shipping. The U.S. Post Office non-expedited renewal can take 4-7 weeks. Applicants must go to the post office, get one passsport photo and pay for priority shipping. Any problems with the renewal paperwork will delay the processing time of the passport as well as delay the returning of personal documents for up to 90 days. A letter is sent to the applicant explaining the reasons for the denial - all documents are held at the post office until the traveler is able to resolve the issues found by the Department of State.
Renewing your passport with a registered passport exeditor, such as fastportpassport.com, is with certainty, the best option for having a passport renewed in a timely, organized and quick manner. Fastportpassport.com can take the entire payment, via credit card or pay-pal and hand carry an applicants passport into the U.S. Department of State. The applicant has the option to pay government fee of $170 for the expedited renewal or $110 for non-expedited renewal, with a fee of $50 for the registered courier service. Either selection significantly decreases the passport renewal processing time.
For more information, please visit FastportPassport