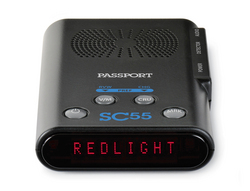 "The PASSPORT SC55 Safety Camera helps drivers avoid being targeted and ticketed by giving them timely alerts," said Dave Smidebush, ESCORT's Vice-president of Marketing. "The SC55 is based on ESCORT's Defender™ Database, the hands-down category winner."
West Chester, OH (PRWEB) February 15, 2010
ESCORT Inc., a leading manufacturer of automotive electronic accessories, announced the release of its newest product offering, the all new PASSPORT SC55 Safety Camera Locator. The new SC55 Safety Camera Locator adds GPS intelligence and ESCORT's class leading Defender™ Database which provides drivers with the ability to receive early warning notification of approaching speed traps, speed cameras, red light cameras and other high target traffic citation threat areas.
"Many drivers feel that targeting and ticketing isn't just about safety—sometimes speed traps feel more about revenue than driver protection," said Dave Smidebush, ESCORT's Vice-president of Marketing. "The PASSPORT SC55 Safety Camera helps drivers avoid being targeted and ticketed by giving them timely alerts," said Smidebush. "And the SC55 Safety Camera is based on ESCORT's Defender™ Database, the hands-down category winner," he added.
The new SC55 with ESCORT's Defender™ Database is designed to work with older ESCORT/BELTRONICS non-GPS enabled radar detectors, or it can be used as a stand alone Safety Camera Locator. The SC55 updates pre-GPS enabled radar detectors by adding the ability to receive early warning notification of approaching speed traps, speed cameras, red light cameras and other high-target areas. "Savvy drivers are aware that many cameras and speed traps are located in safe but highly traveled areas," said Tim Coomer, VP of Product Development. "What they often are not aware of is that many radar detectors currently in use are not GPS enabled and cannot alert to the increasing numbers of red light and speed cameras being deployed. The SC55 gives drivers Safety Camera alerts and helps keep them aware in proven high-target areas," he added.
"Remarkable accuracy for cameras and speed traps"—the SC55's class leading performance is due to its incorporation of ESCORT's Defender™ Database. The Defender™ Database recently finished number one with a near perfect score in an independent test of safety camera database accuracy. The Defender™ Database overwhelmed the competition scoring 95 (95/100) for overall accuracy in a RadarTest.com independent test of current major players. The next closest score, a 66 (66/100), was turned in by Cobra's latest database offering, a distant second to ESCORT's Defender™ Database. "We were committed to make our Defender™ Database, another 'best-in-class' product," said John Larson, ESCORT President/CEO. "Our winning score of 95 in this major 3rd party test validates our efforts and gives our customers maximum confidence when using the Escort Defender™ Database."
The SC55 will always be the class leader in accuracy as the Defender™ Database is continually updated in order to maintain the integrity and accuracy of the data. Unlike other safety cameras that use inferior databases which often depend heavily on unqualified and frequently incorrect user input, or old, expired data, the SC55 with the Defender™ Database contains data points that are continually verified through research and a network of professionals. The SC55's new camera locations are not just added in—earlier data points are verified for continued relevance and are removed if they are found to be no longer in force. The SC55, with built-in USB port, can easily be updated on ESCORT's website (ESCORTinc.com) using a PC based USB connection.
The ESCORT Defender™ Database is also integrated in select ESCORT and BELTRONICS radar detector models including the PASSPORT 9500ix windshield model, the PASSPORT 9500ci custom-installed model and the BELTRONICS Pro GX65 windshield mount model. Like the SC55, all radar detector models that include the Defender™ Database can be updated directly from the ESCORT and BELTRONICS respective websites. The Defender™ Database data includes coverage for all of North America.
The SC55 also has an optional Detector Kit that provides everything the user needs to connect the SC55 to select ESCORT model radar detectors. Also included in the kit is a new modular windshield mount that accommodates both compatible detector and the SC55 in tandem for ultimate convenience.
The SC55 is scheduled to begin shipping in mid-February and retails for $179.95 with optional Detector Kit and is $159.95 as a stand alone Safety Camera. SC55 ordering and information as well as information on the Passport 9500ix, REDLiNE and the 9500ci radar detectors, is available at ESCORTinc.com or by calling 1.800.433.3487.
About ESCORT, Inc.
ESCORT Inc. is the leading manufacturer of high-performance radar and laser detectors, GPS enabled navigation and tracking products and other Drive Smarter products. ESCORT manufactures products under the ESCORT, PASSPORT, SOLO, Vector and BELTRONICS brands. The company is headquartered in West Chester, Ohio with its principal manufacturing facility located in Mississauga, Ontario, Canada.
Editorial Contact:
Ron Gividen
513.870.8500
###