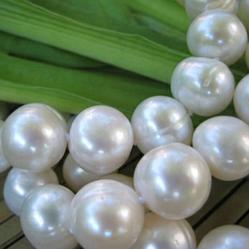 Salisbury, CT (PRWEB) November 02, 2011
Passports Pearls launches a new web store for hand crafted freshwater pearl jewelry. Woman-owned American business capitalizes on high quality natural cultured Chinese pearls to both offer a more affordable luxury item in down economy and assist Chinese women entrepreneurs.
Passports Pearls launches a new web store for freshwater pearl jewelry. Passports Pearls was established in June 2009 by an American businesswoman who has lived and worked in China over the past decade. The pearl business is an add-on to a successful Salisbury, CT, antiques, accessories and gift store founded in 1998. Previously the pearls were only available through the Connecticut store, trunk shows and markets. Passports Pearls' suppliers are all women-owned family businesses known personally by Passports' owner for over five years. Passports' owner also knows personally the adult women who string each of the pieces and can attest to their working conditions and fair wages.
The pearls originate in Southern China's pearl farms and are gem-quality or near gem-quality, similar to those recently written about in the New York Times (http://www.nytimes.com/slideshow/2011/07/31/business/global/pearl-ss.html). New freshwater pearl growth techniques have created a high quality, lower cost alternative to more expensive saltwater pearls. These natural pearls are actually less expensive than the man-made pearls sold through the major catalogs and shopping center chains. So interestingly, as these new better, less expensive pearls begin to flood the market, pearls also feature prominently on fashion runways. In Fashion news, as quoted in the New York Times in early October (http://www.nytimes.com/2011/10/05/fashion/chanel-never-breaks-stride-fashion-review.html), Karl Lagerfeld said "There is no jewelry this season, only pearls." Donna Karan's Fall 2011 collection heavily featured pearls, and though pearls are never really out of fashion, pink pearls are expected to be especially in style for Spring 2012.
PassportsPearls.com has a large collection of pearl jewelry classified in such a way as to make pearl shopping based on type, color, shape, occasion, and/or season possible. For additional information on Passports Pearls, Passports, and the Passports online store, contact Kathryn Fjeld or visit the new http://www.passportspearls.com.
About Passports Pearls
Passports Pearls offers an extensive collection of elegantly fashioned cultured freshwater pearl jewelry. Each piece is hand-strung with the highest quality, hand-selected pearls – seed, keshi, coin, Biwa, baroque, and classic round. Natural pearls are subtly different so each piece is truly unique; the majority of designs are made in very limited quantities and many are one-of-a-kind creations. This intimate, hands-on approach to jewelry making provides affordable quality workmanship and design. The collection's exceptional quality is consistently considered comparable to that offered by iconic jewelry establishments.
###