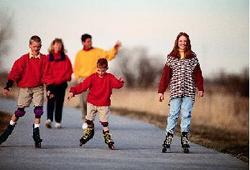 Spring is when you feel like whistling even with a shoe full of slush.
Norwalk, Conn. (PRWEB) February 14, 2008
Passport to Fun (SM), a premier recreation and entertainment savings program offered by Adaptive Marketing LLC, says it'll soon be time to shake out those legs and exercise with the family. As temperatures rise and daylight hours get longer, AP9*PassportToFun reminds everyone that the hibernation period will soon be over; spring 2008 is fast approaching.
As the buds on the trees start to open and the flowers begin blooming, why not make exercise another rite of spring this year? Think of it … wouldn't it be a kick to send Old Man Winter packing ahead of schedule? Now, with Passport to Fun's following list of exercise tips, the whole family can get a jump on spring:
-- Walk the walk. Walking is not only good exercise; it can be a reminder that better weather will be coming. Just like humorist Doug Larson said, "Spring is when you feel like whistling even with a shoe full of slush."
-- Seek and ye shall find. Most kids love hide-and-seek, so make it a point to join your kids in a game or two. Whether inside or outside, a well-played hide-and-seek game may just be the perfect way to kick-start spring -- and help get the blood moving, too.
-- Hit the beach. Walking or running on the beach can make for a great family activity. Just wait for that first warm day, and plan to pull out all the stops: Bring along everyone and everything -- kids, pets, and, of course, a sense of fun. As actor/comic Robin Williams once said, "Spring is nature's way of saying, 'Let's party!'"
-- Bicycle races are coming. Maybe rock-opera pioneer Freddy Mercury had it right when he wrote, "Bicycle races are coming your way, so forget all your duties oh yeah!" And since exercise goes hand-in-hand with freedom and rebirth, rounding up the kids for a family bike ride just says "spring" all over.
-- Head for higher ground. Springtime dreams don't have to wait, especially if the weather cooperates. That's why making plans for a day hike can be a great way to exercise and watch spring "do its thing" at the same time. Whether kid or adult, heading outside to play is the first sure symptom of early spring fever. And planning to hit the hiking trails now -- not later -- is one surefire way to catch it. Don't miss out.
Plan to spend time exercising and celebrating spring's arrival with the family a little early this year. And remember, no matter what time of year it is, there's always a way to have fun for less, courtesy of Passport to Fun.
About Passport to Fun
AP9 PassportToFun is a leading membership discount program offered by Adaptive Marketing LLC. Headquartered in Norwalk, Conn., Adaptive Marketing is a category leader in membership programs, bringing value direct to consumers through an array of benefits in healthcare, discounts, security, personal property and personals. Members may access their benefits at PassportToFun.com. With broad online and offline distribution capabilities, Adaptive Marketing offers its corporate client partners effective tools to enhance market presence, strengthen customer affinity and generate additional value through programs such as Passport to Fun.
# # #