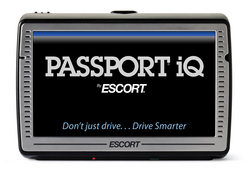 "PASSPORT iQ™ combines our industry leading radar detection, a 5" color touchscreen, speed limit information, over-speed alerts and more, while integrating very intuitive, high-end navigation capability—all in one product." said John Larson, ESCORT CEO.
West Chester, Ohio (PRWEB) October 27, 2010
ESCORT Inc., the leading manufacturer of premium automotive electronic accessories and maker of the world's best radar and laser detectors, today announced the release of the PASSPORT iQ™ which sets the standard for protecting consumers from unwanted tickets and guiding them safely to their destination.
The all-new patented PASSPORT iQ™ is the world's first and only driving accessory that integrates radar/laser detection and GPS navigation, and also provides important driving information, such as speed traps and speed limit data, in a single compact device.
"We are excited about providing the first convergence of state-of-the art radar and laser detection, 3D GPS navigation, red light and speed camera notifications, speed limit information, and much more," said John Larson, ESCORT president and CEO. "The PASSPORT iQ™ is your ultimate driving companion."
Assuming the form of contemporary GPS personal navigation devices, the new PASSPORT iQ™ is framed in landscape profile with a large 5-inch full-color touchscreen.
"ESCORT engineers were able to change the standard radar detector form by designing a radically new microwave antenna assembly," said Tim Coomer, ESCORT's vice president of New Product Development. "Until the merging of these two major mobile technologies by ESCORT, drivers had no choice but to purchase and connect separate driving devices at the same time. The PASSPORT iQ™ accommodates and combines these technologies into one, easy-to-use device."
"With our innovative product engineering and our strong patent portfolio, we are the only manufacturer able to provide drivers the opportunity to combine the key technologies of radar and laser protection, GPS navigation and important driving information in a single package," said Dave Smidebush, ESCORT vice president of Marketing. "These integrated benefits can't be found in a PND, a smart phone, other portable devices or as an OEM option on new vehicles," he added.
Radar Detection
The PASSPORT iQ™ is based on the PASSPORT 9500ix, ESCORT's award winning GPS-enabled windshield mount radar and laser detector. The new PASSPORT iQ™, with a 5" color touchscreen, takes radar detection to a new level by clearly providing drivers with their current speed and heading as well as speed limit information. The PASSPORT iQ™ conveniently provides warnings if speed limits change and drivers are exceeding the posted speed. In addition, the PASSPORT iQ™ clearly overlays red light cameras, speed cameras, and high risk speed traps on the navigation screen. The PASSPORT iQ™ features a user-friendly choice of visual and audio alerts and can be displayed in selectable formats and colors.
Like other premium ESCORT products such as the PASSPORT 9500ix and 9500ci, the PASSPORT iQ™ uses artificial intelligence and includes ESCORT's patented AutoLearn™ feature, which automatically identifies and analyzes all radar sources. This technology allows the PASSPORT iQ™ to determine which threats are real and automatically locks out those that are false, including automatic door openers, motion sensors, and other sources that cause competitor radar detectors to constantly false alert when no real threats actually exist.
In addition, the PASSPORT iQ™ comes with ESCORT's Defender™ Database, winner of the industry's leading data-accuracy test for threat locations. The PASSPORT iQ™ is USB-web ready for updating the Defender™ Database with the latest safety camera and speed trap locations.
Navigation and More
The PASSPORT iQ™ offers easy-to-read 3D maps powered by NAVTEQ, voice-guided turn-by-turn directions and lane-assist -- all of which provide comprehensive directions and updates for driving anywhere, anytime. Drivers can choose to use the PASSPORT iQ™ in the NAV mode with on-screen 3D mapping or select to display the PASSPORT iQ™ in the detector mode. In either format, drivers receive both visible and audible turn-by-turn directions to their mapped destination while always being protected from ticketing threats.
"Truly shifting the category forever, the PASSPORT iQ™ starts with industry leading protection of the PASSPORT 9500ix, adds the 5'' color touchscreen display, provides speed limit information, over-speed alerts and more, while also integrating very intuitive, high-end navigation capability -- all in one product. There quite simply is nothing else like it," Larson said. The PASSPORT iQ™ helps you drive smarter by providing all the information necessary to help you avoid unwanted tickets while safely guiding you to your destination.
In addition, based on comprehensive consumer input, ESCORT plans to expand the PASSPORT iQ™ platform by developing an optional model that includes Bluetooth technology and live-traffic. This PASSPORT iQ™ version will help improve driver safety by allowing users to connect their phone for hands-free calling. Live traffic alerts will assist drivers to elude congestion and avoid being unnecessarily delayed.
The PASSPORT iQ™ Radar/Laser Detector with GPS navigation starts at $649.95. The PASSPORT iQ™ is compatible with ESCORT's ZR4 Laser Shifting System, the ultimate laser protection, and ESCORT's line of detector driving accessories. The PASSPORT iQ™ includes a free 90-day subscription to ESCORT's Defender™ Database and comes with a 30-day, worry-free test drive standard with all ESCORT products.
For more information about the new PASSPORT iQ™ and ESCORT's other premium automotive accessories including the award-winning PASSPORT 9500ix GPS-enabled windshield mounted radar and laser detector, visit Escortinc.com or call 1.888.265.9391.
About ESCORT Inc.
ESCORT Inc. is the leading manufacturer of high-performance radar and laser detectors, Entourage GPS enabled navigation and tracking products and other Drive Smarter products. ESCORT manufactures products under the ESCORT, PASSPORT, REDLINE, SOLO, Vector and BELTRONICS brands. The company is headquartered in West Chester, Ohio with its principal manufacturing facility located in Mississauga, Ontario, Canada.
Editorial Contact:
Ron Gividen
513.870.8599
press(at)escortinc(dot)com
###