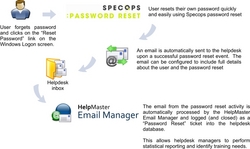 The real winners are the clients who are able to quickly and easily reset their own Windows password, without having to call the helpdesk
(PRWEB) May 17, 2010
PRD Software is delighted to announce a formal partnership with industry-leading password reset supplier, Specops. The partnership gives PRD Software clients the ability to achieve a tight integration between automated self-service passwords reset, and the award-winning help desk / service management software, PRD HelpMaster.
One of the biggest causes for helpdesk calls is forgotten passwords, so the partnership between a Specops and PRD Software is both strategic and logical for each company. The real winners though, become the clients who are able to quickly and easily reset their own Windows password, without having to call the helpdesk. Software developers in both companies have collaborated to create a solution that not only provides best-in-class password reset, but also logs the event in PRD HelpMaster as a help desk incident. This allows service delivery managers and companies using both solutions to quickly determine the frequency and efficiency of self-service password reset technology. Integration details can be viewed at http://www.helpmasterpro.com/products/password-reset.aspx
Rod Weir - PRD Software managing director commented, "PRD Software evaluated many password-reset solutions in our search for a solution that we would recommend to our world-wide clients, and integrate into HelpMaster. After seeing the Specops solution demonstrated we were immediately impressed by its
functionality, design and architecture. Its integration into the Windows group policy sets it apart from other solutions that require a dedicated database installation and complex configuration. Specops password reset is a smart solution, from a smart company. It looks great, is easy to administer and it integrates very well with PRD HelpMaster."
Johan Ögren, President at Specops Software (http://www.specopssoft.com), is excited about the partnership: "It was a natural fit for Specops Software to partner with PRD. PRD's customers have a problem that we solve and now with this integrated solution, PRD HelpMaster and the PRD team can solve the most common incident the Help desk deals with in a cost effective manner that is rapidly deployed and nicely integrated."
About PRD Software
PRD Software (http://www.helpmasterpro.com) is the developer of PRD HelpMaster - a service management software solution for IT and support professionals working in the hel pdesk and service management industry. PRD HelpMaster is developed using the latest Microsoft .NET technology and is available in both a Windows and Web interface. Integrated modules include Active Directory, Incident Management, Problem Management, Email Response Management, Knowledge base, SLA / escalation module, Assets register and more. PRD HelpMaster is currently being used around the world in a wide range of industries including, finance, education, business, medical, and hospitality and local government.
Headquartered in the Australian capital, Canberra, PRD Software has delivered help desk and service desk solutions since 1996. PRD Software are passionate about creating the best value service desk software and providing the professional support and services to our clients around the world.
###