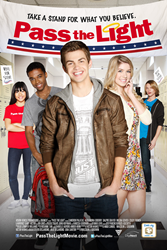 I was taught that we are all God's children, and that is a core message of PASS THE LIGHT. I hope that through the 'See the Light' campaign, we can bring this message to more people.
Los Angeles, CA (PRWEB) January 26, 2015
Vision Vehicle Productions, producers of "PASS THE LIGHT" opening in select Carmike Cinemas nationwide on Feb. 6, announced today that they have launched the campaign "See the Light" on crowd-funding platform Indiegogo to bring the message that God's love is for everyone to people who wouldn't otherwise be able to see the faith-inspired film. The majority of funds raised from the "See the Light" campaign will go towards purchasing tickets and providing bussing to underfunded, and under-recognized communities who have embraced the inclusive nature of God's love.
"I am devastated each time I hear someone use God's name in hatred and exclusion," explains the film's writer Victor Hawks. "I was taught that we are all God's children, and that is a core message of PASS THE LIGHT. I hope that through the 'See the Light' campaign, we can bring this message to more people."
PASS THE LIGHT follows 17 year-old student Steve Bellafiore on a transformative journey from shy, unassuming teen through a community-uniting run for a local Congressional seat. Disturbed by a competing candidate's use of religion to foster hatred, intolerance and divisiveness, Steve chooses to run for office against him with campaign messages of kindness, love and positivity.
The message of Universal Love has resonated with audiences across the country who watched the film during a 2013 multi-city screening tour. Celebrity friends and media gatekeepers have also weighed in.
"PASS THE LIGHT is one of those rare films that inspires and challenges its audience to be better. This is one of those amazing films that can actually affect change. I loved this beautiful film because it wears its heart on its sleeve. It is so beautiful and inspiring," said 5-time Tony Award nominee and current star of "Cabaret" Danny Burstein.
"PASS THE LIGHT gives me hope that all of us, from every religion and walk of life, can come together with kindness, positivity and acceptance so we can tackle the bigger issues our entire community faces," Matthew Morrison, star of the Emmy, Golden Globe and GLAAD award-winning FOX series "Glee."
The Dove Foundation recognized the film with the Ages 12+ Faith Friendly Seal of Approval. Noting in their review, "this inspiring movie about loving people where they are carries a 'love' rather than 'hate' attitude that lifts the film to great heights. It also makes crystal clear that young people can make a difference."
As stated on the "See the Light" Indiegogo page, the filmmakers were so saddened by recent teen suicides attributed to bullying and intolerance, that they were motivated to find additional ways to raise funds to bring the film's message of kindness and acceptance to more people. By using PASS THE LIGHT as a catalyst for everyone – the bullies and the bullied – they hope to bring people together in kindness and respect.
"Independent filmmakers have limited resources. So we are asking that people who believe in our message to help us raise the funds to donate tickets to schools, charities, after-school programs and churches. We just want the opportunity to have our message heard," said the film's director, Malcolm J. Goodwin.
https://www.indiegogo.com/projects/see-the-light--3
PASS THE LIGHT opens its theatrical run on Feb. 6, 2015 in select Carmike Cinemas nationwide, and is distributed by DigiNext. For more information on the film including theater locations and ticket sales please visit http://www.PasstheLightMovie.com , or on social media http://www.twitter.com/PasstheLightMov and http://www.facebook.com/PassTheLight
About Vision Vehicle Productions
Malcolm Goodwin, Victor Hawks and Angie Canuel established Vision Vehicle Productions in 2012. Collectively having roots in the New York City film and theatre community, the founders of Vision Vehicle Productions share a love and passion for the arts and the impact that a good story can have. This partnership was formed on the promise to always produce stories that stirred the soul, stimulated the mind, and have a big beating heart in the center. Vision Vehicle Productions is currently producing film and TV projects that meet the standards of great storytelling and good business.