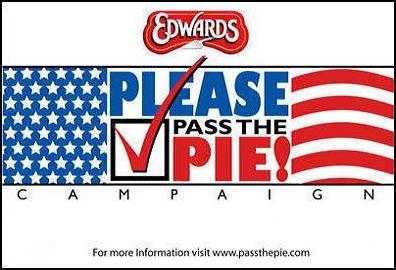 Each state has a unique pie heritage
CHICAGO, IL (PRWEB) August 15, 2006
The Please Pass the Pie (PPP) campaign, which is polling consumers nationwide to determine interest in establishing state pies, is headed to Chicago's mega Air & Water show August 19-20, 2006. The campaign will feature free pie samples, balloons for the kids, and hourly pie-eating contests.
Hosted by the American Pie Council (APC) and Schwan's Bakery, Inc., makers of Mrs. Smith's pies and Edwards desserts, the Please Pass the Pie campaign has gathered thousands of votes favoring state pies for California, Washington state and Maryland. Organizers also supported Floridians who chose Key Lime pie and became the second in the nation to designate an official state pie. Vermont was the first, and named Apple as its official state pie.
Please Pass The Pie ballot boxes will be featured at the Edwards booth during the show. The mock ballots will enable Chicago voters to express interest in and nominate an official pie for the state of Illinois. One lucky voter will win a year's supply of Edwards pies.
"We are very proud of Florida's victory in designating Key Lime pie as the official state pie just a few months ago," explained Linda Hoskins, Executive Director, American Pie Council. "The Please Pass the Pie campaign provided tremendous exposure and if dessert-lovers in Illinois want a state pie too, the American Pie Council and Schwan's Bakery are here to help." The APC is the only organization dedicated to preserving America's pie heritage and promoting America's love of pies, year-round.
As in Florida, where the state pie status became effective July 1, 2006, organizers say that the ballots and mock voting results will be forwarded to interested Illinois lawmakers. Nominations for an official pie of Illinois reflect voter sentiment only since Schwan's Bakery, Inc. and the APC are non-partisan with regard to state pie choices.
"Each state has a unique pie heritage," said Melinda Pritchett, an APC Board member and a Schwan's brand manager. "We believe the best way to preserve this heritage is by designating official state pies. Our hope is to see state pie legislation introduced in Illinois and in capitols across America if local pie-lovers want it."
Following Florida's success, the state pie initiative has sparked interest among pie-lovers in several states and in Canada. "We are thrilled with the response to the campaign and we are prepared to help wherever pie-lovers want a state pie," said Pritchett.
The Edwards Baking Company was founded in 1950 by namesake Tom Edwards as a small retail bakeshop in Atlanta, Georgia. Now based in Suwanee, Georgia, Edwards gourmet desserts are found in grocer's freezers nationwide and are sold as whole pies and in two-slice packages. Varieties include the No.1 selling Key Lime, Lemon Meringue, Georgia Pecan, Turtle and OREO®, among others. Edwards gourmet desserts won four blue ribbons at the 2006 National Pie Championships and two of the awards recognized Edwards' newest desserts --- Banana Crème and Butterfinger Pie.
For more information contact http://www.passthepie.com or http://www.edwardsbaking.com. To cast your vote visit Edwards at the Chicago Air & Water show or at http://www.passthepie.com
###