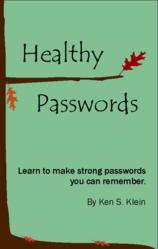 Who would have thought a book about passwords could be fun.

Linda M., New York, NY
Ligonier, PA (PRWEB) May 16, 2011
Sustainable Alternatives, LLC announces the release of Healthy Passwords, by Ken S. Klein. Healthy Passwords is a quick, non-technical guide for making and using strong, memorable passwords.
This book teaches non-technical people to secure their total computing environment. The weakest internet security link is password management. The book's main emphasis is passwords. It does not skimp on ways to secure computers, devices and network equipment.
This book demystifies internet security by using food as a complete password system metaphor. Readers learn to create their own unique ingredient list, assemble a variety of password strategies based on site risk level, and keep their equipment malware and virus free for a healthy internet experience.
About the Author
Ken Klein is a writer and consultant with over 20 years experience helping many of the world's largest corporations design, implement and support information systems.
Publication Date: April 11, 2011
Trade Paperback: $8.99, 150 Pages, ISBN: 978-0615456850
BISAC: Computers / Security / General
Healthy Passwords is currently available in paperback through Amazon.com and will soon be available through distributors. E-books are available through Amazon, Barnes and Noble, Google Books, and iTunes. Paperback retails at $8.99 and e-books retail at $2.99.
http://www.amazon.com/Healthy-Passwords-strong-passwords-remember/dp/0615456855/ref=sr_1_1?ie=UTF8&s=books&qid=1304736592&sr=8-1
https://www.createspace.com/3571236
Media Contact: Ken Klein
Email: Media(at)HealthyPasswords(dot)com
Phone: (724) 259-8730
# # #