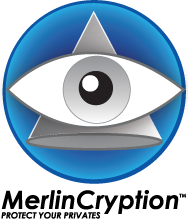 Keeping up with a notebook full of different passwords to multiple accounts is exasperating, but having them hacked and stolen is devastating.
Austin, Texas (PRWEB) January 12, 2012
MerlinCryption releases software that never exposes plain text in a file in its unencrypted form. Users can encrypt and then safely access password lists, personally identifiable information (PII), and confidential databases, as well as protect onscreen activity. Data-in-Use is protected with first-ever scalable encryption keys from 2000 bits to 2GB.
MerlinEye utilizes the CryptoFile™ Key-in-a-File approach and MerlinCryption's proprietary encryption algorithm, which is not based on mathematical technique and not subject to statistical analysis.
"Protecting Data-in-Use is tricky because sensitive data is exposed, and therefore at-risk, whenever a file is decrypted to open and view," says Paul "Prem" Sobel, CTO MerlinCryption LLC. "MerlinEye overcomes this vulnerability, because the data can be seen by the end-point user, yet the file is still encrypted."
Data-in-Use is defined as opening, viewing, and reading a document or file, viewing a database query result, or viewing search results. Both enterprises and consumers use sensitive data in the course of day-to-day operations or lifestyle activities, including viewing medical records, accessing legal documents, briefing trade secrets, or checking passwords.
"If a person does anything online, chances are they have quite a few different passwords…or at least they should have!" advocates Sobel. "Using the same password for every bank account, newsletter subscription, and ecommerce site an individual subscribes to is playing hacker-roulette. When one is intercepted, all are at risk."
As news headlines reveal, criminals repeatedly crack into organizations that maintain databases. Often the hacker will publish the entire database of names and passwords on a website for everyone, including other criminals, to collect and use. Security experts advise consumers to use many different passwords at longer lengths and with varying combinations of numbers, capital-lower case letters, and characters.
"Keeping up with a notebook full of different passwords to multiple accounts is exasperating, but to have them stolen would be devastating," says Sobel, who has about one hundred passwords, "My passwords are securely encrypted in MerilnEye where I can see them, but hackers can't. I use it nearly everyday and can't imagine operating without it."
About MerlinCryption LLC
A software technology company in Austin TX, MerlinCryption LLC develops invincible data security solutions that combine powerfully robust encryption products with surprising affordability and functional ease.
Leading edge MerlinCryption technology secures data-at-rest and data-in-motion, and pioneers innovative products to protect data-in-use and data-in-change. The unprecedented encryption protects file, email, instant messaging, password, and broadcast data as it is created, viewed, edited, shared, stored and moved around the Internet and around the world. Experience how MerlinCryption architecture is changing the way the world protects data.
# # #