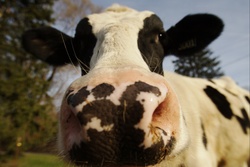 We're grateful to Ronzoni Smart Taste pasta for giving us the chance to enjoy a day off from work.
HARRISBURG, Pa. (PRWEB) December 18, 2007
Starting today, cow lovers can visit http://www.cowsdayoff.com and give a cow a day of rest and relaxation thanks to this new source of calcium. Then on January 14, cows will be grazing on the beach, enjoying cow-tinis poolside and getting their aching calves massaged by a professional moo-seuse. By giving a cow a day off, consumers will also be supporting Ronzoni's donation to Big Brothers Big Sisters of America, the leading organization helping children to reach their full potential through mentoring in communities nationwide.
The site features a busy day in the life of hard working cows, bovine profiles and simple instructions on how to sponsor a cow and send her on a dynamite day off. Visitors can even send their favorite cow on a "virtual" vacation, from Paris to the slopes of Aspen.
"Mooing for all cows, it's good to know there is another source of calcium out there," said Bertha, a small town cow from Nebraska. "We're grateful to Ronzoni Smart Taste pasta for giving us the chance to enjoy a day off from work."
In addition to providing a third of daily calcium requirements in one serving, Ronzoni Smart Taste has three times the fiber as regular pasta. It also cooks, looks and tastes the same, so pasta-lovers won't know the difference.
About New World Pasta
New World Pasta is a leading marketer and supplier of branded dry pasta and noodles in the United States and Canada. Headquartered in Harrisburg, Pennsylvania, New World Pasta has over 600 employees in the United States and Canada.
About Big Brothers Big Sisters
Big Brothers Big Sisters, BigBrothersBigSisters.org, is the largest youth mentoring organization in the United States. With more than 400 affiliates across all 50 states, Puerto Rico and Guam, it served 242,000 children in 2006 - more than twice the number of five years ago. Independent research shows that its model of professionally supported one-to-one relationships between young people and their Big Brothers and Big Sisters has a measurable, positive impact. Children in the program are less likely to skip school, begin using alcohol and illegal drugs, and be involved in violence. Big Brothers Big Sisters works with policymakers and community leaders across the country to expand access to mentoring for children in need. The organization is currently focusing on recruiting Big Brothers, especially African Americans and Hispanics.