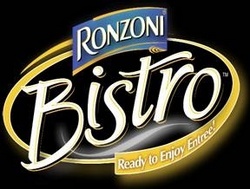 Now Ronzoni® Bistro™ makes it easy for busy people to enjoy great-tasting, satisfying and complete pasta meals when they don't have time to prepare their favorite pasta dishes from scratch
HARRISBURG, Pa. (PRWEB) July 21, 2008
With Ronzoni® Bistro™, a satisfying pasta meal is available for pasta lovers to enjoy anytime, anywhere, whether at home, at their desks, or on the go. Each Ronzoni® Bistro™ meal is made with the highest-quality Ronzoni pastas combined with flavorful sauces and ingredients, such as fresh herbs, extra virgin olive oil, white wine, vegetables, cheeses and meats. Ronzoni® Bistro™ offers two white-sauce and two red-sauce dishes to please every palate:
Penne with Chicken and Broccoli - Penne pasta cooked with white-meat chicken and broccoli tossed in a light rosemary and garlic cream sauce
Linguine with Chicken and Mushrooms - Linguine pasta cooked with white meat chicken, mushrooms and tomatoes tossed in a white wine and cream sauce
Rotini with Tomato and Basil - Rotini pasta in a savory vine-ripened tomato sauce with onions, garlic and sweet basil
Spaghetti and Meatballs - The classic spaghetti and meatballs simmered in a rich tomato sauce with seasoned herbs
"Now Ronzoni® Bistro™ makes it easy for busy people to enjoy great-tasting, satisfying and complete pasta meals when they don't have time to prepare their favorite pasta dishes from scratch," says David Heimbecker, Sr. Director of Marketing, New World Pasta. "The pouch packaging makes it easy to pull a bistro-inspired meal right out of your bag wherever you find yourself for lunch or dinner."
Ronzoni® Bistro™ is the newest offering from the Ronzoni brand, which is leading innovation in the pasta category with such items as Ronzoni Healthy Harvest® and Ronzoni Smart Taste™ pastas. The microwave-ready pouches can be found in the pasta aisle of the supermarket. The suggested retail price is $2.79 for each 8-ounce meal. For more information and to download a Ronzoni Bistro online coupon for a limited time, go to http://www.ronzonibistro.com.
Also visit http://newsroom.mbooth.com/NewWorldPasta/gallery/main.php to download images and further information about the products.
About New World Pasta
New World Pasta is a leading marketer and supplier of branded dry pasta and noodles in the United States and Canada, with leading National and Regional brands like Ronzoni, Healthy Harvest, Smart Taste, Creamette, San Giorgio, Prince, Skinner, American Beauty, and Light & Fluffy. Headquartered in Harrisburg, Pennsylvania, New World Pasta has over 650 employees in the United States and Canada.
Keyword Tags:
bistro, coupon online, easy meals, family meals, meals on the go, online coupon, pasta, pasta recipes, quick and easy family meals, quick meals, ronzoni, ronzoni pasta